What The Hell Just Happened? MSNBC's The Cycle Airs Bizarre Segment With Sasquatch Hunter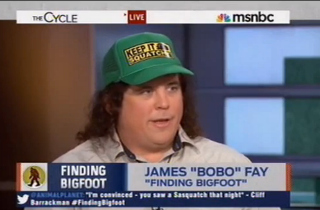 For several minutes this afternoon, a few of us Mediaite writers could have sworn we'd been drugged.
Why? Because MSNBC's The Cycle aired an incredibly bizarre segment with a professional Sasquatch hunter.
To say the least, the segment could have easily been one of those hallucinogenic dreams we media reporters suffer from while trying to escape the clutches of cable news even in our own sleep.
James "Bobo" Fay, one of the stars of the Animal Planet series Finding Bigfoot, sat down with three of the four cyclists (including a very star-struck S.E. Cupp) to discuss his show's super-serious quest for that most-certainly-existent-despite-being-debunked-a-thousand-times legendary creature named Sasquatch.
Right around the time Cupp and "Bobo" began trading quips using the word "squatchy" as an adjective, we began to seek medical attention and/or pinch ourselves in order to wake up.
But no, this was not a dream. This was an actual segment on a political talk show.
When asked "how many encounters" Bobo has had with alleged Sasquatches, his reply involved smelling them:
Encounters? Dozens. Like when they're around, you can hear them and smell them. I haven't smelled that much really, but I've seen them a handful of times. I had one daylight sighting I just saw it lean out from behind a tree for a half second and then it was gone.
It gets better. The Cyclists played a clip of the Animal Planet show's resident "skeptic" saying that outside of "anecdotal evidence," there is little proof for the existence of some massive hidden woods-dwelling creature. She likened the belief in bigfoot to the centuries-long beliefs in mermaids, unicorns, and other mythical animals.
But Bobo says she's wrong and "ridiculous," you guys. Why? Because no one is reporting seeing unicorns in the woods.
Okay, fair enough. Except… um… people still report seeing a giant Scottish lake monster known as Loch Ness. Oh, and people regularly report being beamed up onto alien spaceships. But whatever, right? If people report something to police, it must be true.
Tales like Bobo's do make for gripping narratives, but certainly not sound science. As Cupp said, "Where are the bodies?" to which Bobo had no response. But my wet-blanket-ness to this fun little segment ends here.
And hey, when you go all-in and book an absolutely strange segment, why not go out in the most bizarre possible fashion: WITH A SQUATCH CALL!!!!!
Enjoy the madness below, via MSNBC:

— —
>> Follow Andrew Kirell (@AndrewKirell) on Twitter
Have a tip we should know? tips@mediaite.com