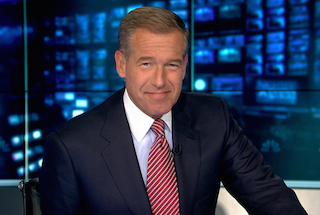 On Friday, a curious thing happened in media reporting: Two major outlets reported the same exact story, all based on anonymous sources. The tale being told: NBC's internal investigation of Brian Williams' embellishments has been rather extensive, including at least one instance that went unreported.
The Washington Post reported that the months-long probe "has turned up 11 instances in which the anchorman publicly embellished details of his reporting exploits, according to a person familiar with details of the probe." The paper's sources claim the unreported problematic instance involves his "description of his reporting from Cairo's Tahrir Square during the Arab Spring uprisings in early 2011."
And the New York Times echoed the exact same report, based on two NBC sources. The Gray Lady noted that the investigative team, led by senior executive producer Richard Esposito, has looked into at least a half-dozen instances of fabrications and embellishments by the anchor.
CNN's Brian Stelter picked up on the story on Saturday, quoting anonymous sources who indicated the investigation is not yet complete but are "tight-lipped" about other details.
Interestingly, he quoted New York University journalism Professor Jay Rosen, who hit the nail on the head: "Rosen suggested people at NBC may be 'signaling their mood and intentions through the leaks.'"
Oh, there's no doubt. The leaks paint a grim picture for Williams. By putting this information about internal investigations out there, with three major publications biting, these well-placed sources at NBC could very well be floating a trial balloon, or, more bluntly, getting the public prepared for the idea that Williams' wrongdoings were enough for the network to terminate his employment permanently.
Only time will tell what becomes of Williams following his six-month suspension, but if these leaks are any indication, the outlook is not good.
Watch CNN's Reliable Sources panel discuss the leaks below:
As well as Fox's MediaBuzz:
— —
>> Follow Andrew Kirell (@AndrewKirell) on Twitter
Have a tip we should know? tips@mediaite.com