What To Expect From Tonight's Fox News Debate: A Little Twitter And A Lot Of Baier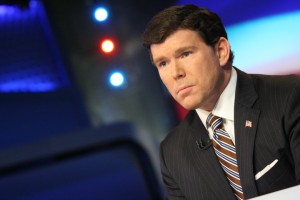 As time winds down to the Jan. 21 South Carolina primary, politicos can look forward to tonight's Fox News/Wall Street Journal/South Carolina GOP debate, and the stakes couldn't be higher, especially with one less opponent. Live from Myrtle Beach tonight (9pm EST to 11pm), Fox News' Bret Baier will co-moderate the debate and will try to ensure each candidate gets a fair shake.
"You're trying to make sure that everybody gets equal time but obviously the people who are on the top of the polls are in focus because they're responding to attacks, responding to different questions, will get some extra time," Baier told the New York Daily News's Aliyah Shahid.
Steve Palisin at the Myrtle Beach Online, points out that the debate is something of a homecoming for Baier, as he first got his start as a Beaufort local newsman.
I was a one-man reporter, photographer and editor. I remember covering sea turtle nesting. … It was my first on-air position, so I have an affinity for coastal South Carolina. I did get to cover some things with the military at Parris Island, and interview Carroll Campbell, who was then governor — that was a big deal. Most of the stories, though, had to do with local battles within the Hilton Head Island Town Council.
As an added bonus to the happenings on the TV, The New York Times's Brian Stelter notes that Fox News will be "measuring viewers' reactions to each answer on Twitter" during the debate.
Twitter users who are watching the debate will be encouraged to react using the hashtags #answer and #dodge — giving their assessment of whether the candidates are dodging or actually answering questions — and the results will be displayed in metered form on FoxNews.com.

Afterward, when TV commentators are analyzing what happened at the debate, "we're going to try to pull some of this data into those conversations," said Jeff Misenti, the vice president and general manager of Fox News Digital.
Viewers interested to see how this new dynamic will affect the candidates — and to catch native son Baier doing what he does best — can tune in at 9 p.m. EST on Fox News Channel.
Have a tip we should know? tips@mediaite.com