'What Were You Thinking?' Megyn Kelly Spars With Newspaper Editor Over Publishing Schools Without Security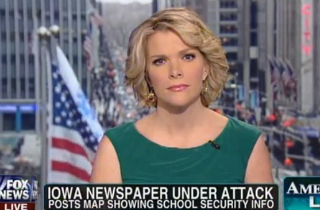 On her Fox News show this afternoon, Megyn Kelly grilled the editor of the Des Moines Register after the paper published an online interactive map revealing which of the state's schools do or don't have security on-hand.
Earlier this week, the paper published the map and information on their site. After controversy erupted, the company took down the page within 20 minutes but many citizens are still outraged, claiming the paper "endangered" students by potentially revealing to possible gunmen the schools that do not have resource officers in addition to police or security presence.
"What were you thinking?" Kelly bluntly asked editor Rick Green.
"Immediately after Sandy Hook, communities across Iowa, really around the country… have started asking questions about the presence of school resource officers," Green explained, adding that the impetus for the interactive map was that "We heard from residents, taxpayers and, most importantly, from parents three simple questions: Does my school have resource officers? And what kind of security system is in my child's school? And is our district taking seriously any potential public safety threats averted by the presence of the school resource officer?"
"Incredibly legitimate questions that I thought needed to be examined… A question to ask and be sensitive, but to do it as accurately and as thoughtfully as we can," he added.
"You admit you didn't do that," Kelly challenged.
"No, I'm the not admitting that," he responded, noting that Kelly "misled" viewers by suggesting the map revealed which schools had no security whatsoever. He clarified that the map was related to "school resource officers" only, not police or sheriff presence.
"Why not put up the list of school districts?" Kelly asked. "Put up the list of 348 [school districts] and put down the contact information for parents to call?"
"Um, that's a very good idea, very good idea and with how we try to proceed with this whole thing," he said before pivoting to how the paper "had to investigate" after receiving so many calls inquiring about the safety of local schools.
Kelly then grilled the editor over the fact that the revised map now shows the 54 school districts that have resource officers, and if "you do a little math," you can easily figure out the schools that do not have such a security presence.
Green called Kelly out for being the "only one out there showing" the map, despite it having been removed entirely from the Register's website. He also chided TheBlaze.com for still having the full map up in .pdf format.
"I's not their fault," Kelly responded. "It's your fault."
Watch below, via Fox:
Have a tip we should know? tips@mediaite.com