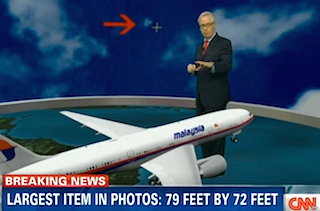 CNN has come under scathing criticism for its two solid months of near-constant coverage of the missing Malaysia Airlines Flight 370 plane. But for the most part, the story has been a ratings boon for the network. In a recent interview with Mashable, CNN president Jeff Zucker defended his operation's dedication to the story, saying, "Clearly, the audience has spoken and said that what CNN did was correct." But as the missing plane story starts to fade away, how long can CNN's success last?
Before March of this year, CNN was running a consistent third place in the ratings, behind #1 Fox News and #2 MSNBC. But the missing plane story did appear to turn that order on its head. CNN started beating MSNBC in the coveted 25-54 demo in the primetime and even occasionally in total viewers. And while Fox News has by no means lost its cable news throne, there were multiple days in mid-March, at the height of the MH370 story, when CNN's Anderson Cooper beat Fox News' Bill O'Reilly in the demo, a feat that had not happened in nearly a year.
By the end of March, CNN had surpassed MSNBC for the month on several important metrics. In total day, CNN surpassed MSNBC in the demo (164K vs. 127K) and among total viewers (498K vs. 379K). In weekday primetime, CNN also came out ahead of MSNBC in the demo (240K vs. 201K), while MSNBC maintained its lead in total viewers. In April, things looked even better for CNN and worse for MSNBC, especially in the morning hours where CNN's New Day beat MSNBC's Morning Joe in the demo 119K to 105K.
But now that it's May, and the search for MH370 has entered its third month, CNN has been slowly but surely moving away from the story in favor of other, more urgent matters. The network has begun to revisit the crisis in Ukraine. They followed the media frenzies surrounding Cliven Bundy and Donald Sterling. And, as we reported this week, CNN has thrown significant resources at the long-underreported kidnapping of young schoolgirls in Nigeria. On Tuesday, between 7 a.m. and 5 p.m. alone, there were more than 20 individual segments on the Nigeria situation while the Malaysia plane story was only mentioned twice.
While the shift away from solely covering the missing Malaysia Airlines plane will likely please media critics, along with The Daily Show, so far, it doesn't seem to be pleasing viewers. The risk with CNN's all-in coverage on MH370 was that the story would inevitably come to an end. While the incessant coverage may have driven some viewers away, it replaced them and then some with new viewers who became obsessed with every twist and turn in the story.
CNN may have hoped for the ultimate discovery of the plane, complete with live video of it being pulled from the bottom of the ocean and cathartic reactions from passengers' family members, but as one of CNN's most epic breaking new Chyrons told us last month, it could take years for it to be found. Now that CNN has apparently decided to move on, who will be left watching?
So far, not too many people. For the first three days of this week, Monday, May 5 – Wednesday May 7, CNN averaged just 101K primetime viewers in the 25-54 demo. That put the network in third place behind Fox News, which averaged 283K and MSNBC, which averaged 141K. And that was with Bill O'Reilly out on vacation.
"I think that if people want to be critical of CNN for over-covering a story, that's totally fine with us," CNN's Zucker told said in the same Mashable article. CNN may have been "correct" that its audience wanted more of the missing plane story than anyone on the outside of the network's data-centric operations could have predicted. It's time for CNN to face the consequences of what will happen now that they — and their audience — have decided it's time to move on.
[Photo via CNN]
— —
>> Follow Matt Wilstein (@TheMattWilstein) on Twitter
Have a tip we should know? tips@mediaite.com