What Will Jeff Zucker's 2014 Prime Time 'Shake Up' Mean for Anderson Cooper and Piers Morgan?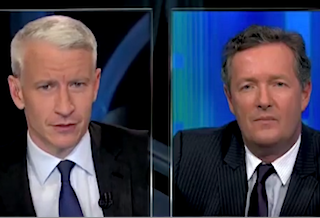 CNN president Jeff Zucker shared his plans to "shake up" his network's prime time lineup in 2014 in a new interview with Ad Age published Monday. "We never want to give up on breaking news," Zucker said. "But the types of programs we do offer will be broader."
Zucker's comments follow promises he made in an interview last month with Capital New York to change CNN to a network with more of an "attitude and a take" on the news, like competitors Fox News and MSNBC. He also suggested that CNN would have "more shows and less newscasts" in the coming year.
In his interview with Ad Age, Zucker did not get much more specific about how those changes will affect the network's prime time lineup. "It's safe to say 2014 will be the year we shake up prime time," he said. On his decision to add more "informational, educational, entertaining" programming, Zucker added, "The entire cable-news audience has been stagnant. That's why we need to fish in other ponds."
During Zucker's first year on the job at CNN, the network trailed Fox and MSNBC in prime time ratings, though it did come out ahead of MSNBC in total day. And while Fox and MSNBC both saw significant drops in viewership after 2012's presidential election year, CNN's ratings were generally flat. In today's cable news climate, that can be claimed as a victory.
After signing a contract to stay with CNN through the 2016 election, Anderson Cooper's place in the network's prime time lineup appears to be fairly secure. Piers Morgan, who currently occupies the 9pm time slot, and regularly draws fewer viewers than both Fox's Megyn Kelly and MSNBC's Rachel Maddow, has a less certain future.
Read the full article on Zucker at AdAge.com.
[photo via screengrab]
— —
>> Follow Matt Wilstein (@TheMattWilstein) on Twitter
Have a tip we should know? tips@mediaite.com