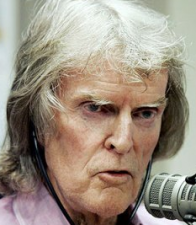 Could radio host Don Imus be joining the Fox family?
Reports indicate he is in negotiations for his radio show to be simulcast on the Fox Business Network, possibly beginning as early as September. And Sean Hannity just aired a very glowing "behind-the-scenes" at the Imus Ranch. So how would this move benefit Imus, or FBN?
The story was first reported by AllYourTV.com Friday, and expanded on today by Matea Gold of the Los Angeles Times.
According to Gold:
Fox Business is in talks with shock jock Don Imus about simulcasting his radio show, more than two years after derogatory comments he made about a group of African American female basketball players got him kicked off MSNBC and CBS Radio.

The provocative and popular radio host is in final negotiations with the financial news network, which plans to simulcast his syndicated early-morning radio show.
Imus is currently simulcast on RFD-TV, which does not have as much distribution as FBN, and more importantly, not in the #1 market of New York. But still – he is under contract there. That would have to be worked out before any deal with Fox goes through.
The ability to get New Yorkers to see Imus once again would certainly benefit Imus, but what does FBN get out of it? Imus may be a popular radio host, but he certainly does not host a business-focused show. Maybe that's okay for Fox Business Network as it continues its quest to gain viewers – but a business network that has a non-business morning show can't be a longterm solution. (An insider tells us the show would "incorporate more business elements" if it was simulcast on FBN.)
Also, the move echoes another made recently by a B-level biz net – when Bloomberg announced it would work in a re-air of Charlie Rose's PBS show into its fall schedule. Rose is 67-years-old, Imus is 69. The moves will not realistically be bringing in viewers in the all-important A25-54 demographic.
But one way it does benefit FBN is simply by bringing Imus into the Fox fold. He can now conceivably contribute on other Fox News program, and although he may be past his prime, Imus still has an interested following.
And he was on Fox News recently – just last week he was featured in a lengthy three-part interview with Sean Hannity. Here's part 1:

Have a tip we should know? tips@mediaite.com