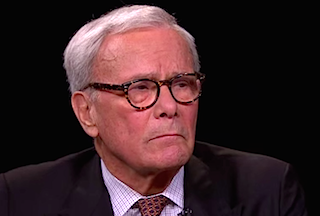 As Brian Williams' predecessor as anchor of NBC Nightly News and someone who is admittedly privy to information about that network's investigation into his apparent fabrications, everyone wants to know what Tom Brokaw thinks about one of the year's biggest media stories. But as he makes the rounds this week to promote his new memoir, A Lucky Life Interrupted
, Brokaw has been remarkably disciplined in his refusal to engage. And that's not to say his various interviewers haven't tried.
On Monday, Brokaw made a rare appearance on Fox News, sitting down with Sean Hannity and repeated the line he has memorized by now when the host asked him to comment on Williams.
"We have a process under way in fairness to Brian and, by the way, we have always had cordial relationships, in fairness to him and his family, we need to let the process play out," Brokaw told Hannity, before lamenting that "there's been way too much speculation" about his own feelings on the matter, most of it "completely wrong." Among those speculations was a New York Post report that claimed Brokaw wanted Williams' "head on a platter."
Watch video below, via Fox News:
When CNN Money's Tom Kludt asked Brokaw to elaborate on his comments to Hannity, he would only add, "I meant what I said. No more."
Tuesday morning, the former NBC anchor sat down for a live conversation with Katie Couric, who was not able to get much more out of him about Williams. Even when she asked what he would do if the decision were solely up to him, Brokaw said, "I'm just not going there, that's for others to decide."
Watch video below, via Yahoo News:
Then, it was on to Bloomberg TV where John Heilemann used his last question to try to get Brokaw to weigh in on the "key factors" NBC will use to determine whether to bring Williams back or not.
"I'm not going to go there, quite honestly," Brokaw said, repeating his practiced line. "Any speculation that I offer, even to you, and you're my friend — Pop! It's on the social media, and I don't want to go there."
"God knows that was I was looking for," Heilemann admitted honestly. "We're looking for that 'pop' on social media."
Watch video below, via Bloomberg:
Later that same night, Brokaw popped up on The Charlie Rose Show, where he appeared increasingly frustrated that the topic of Williams' fate continues to follow him everywhere he goes. Charlie Rose got Brokaw to say more than others by specifically asking what his role in the decision-making process is. "I'm involved, but I'm not making the big calls," Brokaw answered, before once again reminding viewers about that "process" that still needs to "play out."
Watch video below, via PBS:
By the time he got to The Daily Show Tuesday night, Jon Stewart didn't even bother asking him about the Williams fiasco.
But the kicker came at the top of Terry Gross' interview with Brokaw on Wednesday's edition of NPR's Fresh Air. The exceedingly professional Gross began their conversation with this exchange:
Gross: I just want to start by saying my understanding is you've said all you care to say about Brian Williams, true?

Brokaw: True.

Gross: OK. So let's just move on.
After that, it's hard to imagine anyone will dare to ask Brokaw about Williams — at least until the "process" has "played out."
Listen to the short audio clip below, via NPR:
[Photo via screengrab]
— —
>> Follow Matt Wilstein (@TheMattWilstein) on Twitter
Have a tip we should know? tips@mediaite.com