What's 'Cooler' Than Being 'Cool'? Rand Paul's Filibuster, According To Fox News' The Five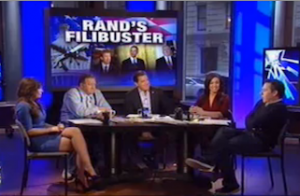 Sen. Rand Paul's filibuster continued to receive heaps of praise Thursday afternoon on The Five, when the hosts broke down what it means for Paul's political future as well as what it portends for the Republican Party.
Eric Bolling echoed a sentiment heard earlier in the day on MSNBC from Steve Kornacki, that the filibuster represented a "changing of the guard" with Paul and fellow Senators Marco Rubio and Ted Cruz representing the new and Senators John McCain and Lindsey Graham representing the old. "These new young bucks, they've got it going it on," Bolling said.
For Greg Gutfeld, it wasn't just about new guard vs. old guard, but rather shifting the balance on who's "cool" in Washington. Gutfeld argued that Paul managed to turn President Obama into Animal House villain Dean Wormer. He said Paul's "real achievement" was shifting the perception of the president from "caped crusader for justice" to "petulant hypocrite." Meanwhile, Rand Paul is an "evil Tea Partier who's suddenly cooler than the coolest of the cool."
Next up, Andrea Tantaros added to Gutfeld's sentiment about the new and improved GOP. "We found ourselves and got our mojo back," she said. "And I thought it was remarkable that they did it with such an outdated maneuver like the filibuster, to get the young people engaged."
The one liberal panelist on the show, Bob Beckel, was the only one who wasn't willing to say the filibuster "brought sexy back" to the Republican Party, but even he could give credit to Paul for giving a loud voice to the "isolationist" wing of the GOP and countering the "neo-cons who want to commit more troops overseas."
So, now that Rand Paul's nearly thirteen hour filibuster is over and he's received the answer he wanted from the White House, is he really "cooler" than President Obama?
Watch video below, via Fox News:
—
>> Follow Matt Wilstein (@TheMattWilstein) on Twitter
Have a tip we should know? tips@mediaite.com