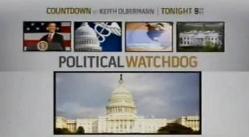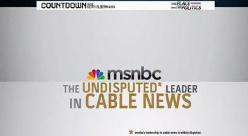 When you think of "America's political watchdog," who comes to mind?
The answers will vary, but how about we try one Keith Olbermann from MSNBC? At least according to a new promo the network – while another (fake) promo touts the network as "the undisputed leader in cable news."
The new ad (below) says, "Tonight, he's America's political watchdog…" and follows with a clip of Olbermann saying, "You were elected to serve the people."
The clip is from early August when he blasted Blue Dog Democrats for the health care hold up. Look, people's opinions about Keith Olbermann vary greatly, but calling him a "political watchdog" is a stretch. He has gone after Democrats (in the clip above and in his recent hour-long Special Comment), but mainly the ones who are standing in the way of the Obama administration. And he certainly goes after Republicans on a regular basis, including the Bush Administration, even now. He's sort of a Fox News watchdog…but political watchdog?
Last night on Olbermann's 8pmET Countdown he introduced a fake promo created around the White House's declaration that Fox News is not an actual news organization. "The White House has done the heavy lifting, and guess what – we're #1!" said Olbermann.
In the fake ad, there was the disclaimer: "MSNBC's leadership in cable news is widely disputed."
Obviously, this was a joke. But apparently Olbermann and the White House are on the same page with this 'Fox isn't a news organization' line of thought. And the whole thing is just hilarious.
Here's the real promo:


And here s the clip from last night's Countdown (via TVNewser):
—–
» Follow Steve Krakauer on Twitter
Have a tip we should know? tips@mediaite.com