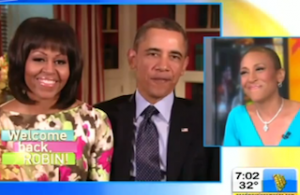 After several months spent in treatment for the rare blood disorder M.D.S., Good Morning America anchor Robin Roberts finally returned to the air today. She received an exceptionally warm welcome from her co-anchors on the show, but also from a couple of pre-taped special guests: President Obama and First Lady Michelle Obama.
In the video message, Michelle Obama tells Roberts that "the whole Obama family, we've been thinking about you and praying for you and rooting for you every step of the way." She adds that she's "looking forward to our interview together in a couple of days."
Meanwhile, the president tells Roberts she's "been an inspiration to all of us" and "we're all excited to start our morning with you once again."
During their greeting, Robert looks on, clearly touched that the president and first lady took time out of their busy schedules specifically for her and says, "That is so incredibly special… that's very special for them to do that."
Now, conservative website NewsBusters.org is attacking ABC for compromising Robert's journalistic objectivity by allowing the Obamas to openly praise the anchor on the air. Writer Scott Whitlock asks, "How, exactly, is Roberts supposed to conduct tough interviews after that kind of praise?"
Whitlock goes on to note the Obamas' long history with Roberts, including her exclusive May 2012 interview with President Obama in which he declared his support for gay marriage. And, this morning wasn't the first time the Obamas offered their "prayers" to Roberts. Michelle Obama tweeted her support on the same day Roberts' diagnosis went public.
So, clearly the Obamas have an affinity for Robin Roberts and vice versa. While those on the right like NewsBusters' Whitlock argue that their relationship, as evidenced by this morning's welcome back segment, makes it impossible for Roberts to do her job as a journalist, I'm not so sure that's the case.
The reality is that members of the media have always benefited from having close relationships with the subjects they are covering. Robert's co-anchor George Stephanopoulos spent several years in the Clinton White House as a communications director, building relationships that he no doubt still relies on to land interviews for GMA as well as ABC's This Week.
While it's possible for these reporter-subject relationships to become inappropriate, as anyone who's seen where House of Cards has taken Rep. Frank Underwood and "Slugline"'s Zoe Barnes is aware, there's nothing scandalous about simple cordiality.
In the case of Robin Roberts and the Obamas, the president and first lady were simply showing their support and kindness to someone they've known for years who just emerged from a harrowing medical situation.
Just yesterday, White House Correspondents Association president Ed Henry argued for more transparency from President Obama. Well, here it is. The president and first lady are transparently offering support to Robin Roberts and refusing to pretend that their friendly relationship doesn't exist. And there's nothing wrong with that.
Watch the GMA segment below, via ABC, and let us know what you think about Roberts' relationship with the Obamas:
—
>> Follow Matt Wilstein (@TheMattWilstein) on Twitter
Have a tip we should know? tips@mediaite.com