When Did Obama Decide That The Scandals He Once Thought Were Serious Are Now 'Phony'?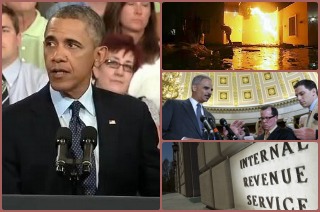 On Wednesday, President Barack Obama set the tone for the debate surrounding the many controversies that have plagued his administration since the spring. The president called those scandals "phony" and denigrated those who find any worth in their investigation. But, as one prominent conservative opinion writer noted yesterday, it was not long ago that the White House was acknowledging the seriousness of the scandals he now derides as contrived.

"With an endless parade of distractions, political posturing and phony scandals, Washington has taken its eye off the ball," Obama said during a marathon speech in Illinois.
During a panel segment on Fox News Channel's Special Report, The Weekly Standard editor Stephen F. Hayes asked a pointed question about these so-called "phony scandals": "Which of the scandals is phony?"
"The president has already acknowledged the seriousness of two of them – three of them, in one way or another," Hayes added.
"This is part of the plan to set up an argument for the fall," he said, identifying how Democrats will counter Republican charges of malfeasance by administration officials ahead of the 2014 midterms. In essence, Hayes implied, Obama and his supporters will accuse the opponents of his administration of a pathological desire to cling to already discredited conspiracy theories.
But Hayes is right to ask precisely which scandal Obama now finds "phony" that he or administration officials previously acknowledged were grave. Was he referring to the scandal surrounding the Internal Revenue Service's targeting of conservative groups with undue scrutiny when seeking tax-exempt status?
"It's inexcusable and Americans have a right to be angry about it — and I'm angry about it," Obama said in May when IRS official Lois Lerner confessed to the targeting after planting a question about the affair with a member of the media at a routine press conference. "The fact of the matter is the IRS has to operate with absolute integrity." Obama made these comments announcing from the White House that he had dismissed IRS personnel as a direct response to the accusations.
Nothing to see here, Obama's supporters say. They point to newly revealed documents which purport to show that some liberal groups were targeted with scrutiny as well – though few have come forward to share their stories in the numbers that conservative groups have. But the National Review's Eliana Johnson reports that IRS chief counsel William Wilkins, who the IRS said in a statement was not involved in the 501(c)(4) application process, "became aware of the targeting of tea-party groups at some point in 2012" according to the testimony of congressional witnesses. Wilkins did have regular contact with individuals in the White House, though whether he revealed what he knew about the targeting scandal to administration officials is not yet known.
Or maybe the president meant the scandal surrounding the administration's response to the attack in Benghazi. Did he mean when the administration sent Susan Rice, then the United States' ambassador to the United Nations, on every Sunday news programs to blame the attack on a spontaneous upraising resulting from an inflammatory YouTube video? A response which State Department officials testified seriously damaged American relations with the nascent post-Gaddafi Libyan government, and directly resulted in the delay of FBI investigative teams being able to access the scene of the attack. Which agency officials made the determination to send Rice out to make this claim remains unclear.
Americans also do not yet know who determined that minimal security for that threatened consulate was acceptable. "I am intent on making sure that we do everything we can to prevent another tragedy like this from happening," Obama said in May, shifting blame for that lack of embassy security to a lack of funding and mismanagement by Congress. "But that means we owe it to them and all who serve to do everything in our power to protect our personnel serving overseas."
Sen. Barbara Boxer (D-CA) later echoed this claim in a fiery speech on the Senate floor. Boxer's claim, and Obama's by extension, that Congress was to blame for the light security footprint in Benghazi was given three Pinocchios from Washington Post fact checker Glenn Kessler. During testimony before a congressional committee, one State Department official asserted that former Secretary of State Hillary Clinton wanted to convert that temporary post in Benghazi into a permanent American diplomatic facility – she was to make this announcement in December of last year on a planned trip to Libya. Was this why the facility needed to be manned with high-level diplomatic personnel, including Libyan Amb. Chris Stevens, even though the consulate was not sufficiently hardened against attacks?
Or, perhaps, Obama was referring to the controversy surrounding the Department of Justice's sweeping and overzealous efforts to intimidate government leakers and the journalists that would speak to them by unilaterally sweeping up the telephone records of Associated Press reporters and naming Fox News reporter James Rosen as a "co-conspirator" in an attempt to violate the Espionage Act.
This "phony scandal" resulted in a series of off the record meetings (which fast became on the record meetings after reporters began to boycott those credibility-endangering parlays) between journalists, media executives, and Attorney General Eric Holder. When the DOJ subpoenas story broke, Holder insisted that, while he had no direct involvement in the investigations, he took them "very seriously." Earlier this month, the DOJ announced that it would rewrite the rules that govern how federal prosecutors and investigators seek secret warrants to prosecute criminal leaks.
It is perfectly understandable why the president and his supporters would want to dismiss as illegitimate these and other smoldering controversies. The president himself and senior administration officials initially recognized and acknowledged the severity and seriousness of the above scandals – their seriousness has not dissipated as their scope has broadened. As the various investigations into these infractions evolved, Obama and his supporters have become more aggressively contemptuous of those pursuing them and have attacked the motives of anyone who would seek to hold a frank discussion about these infractions. This is perhaps the most compelling indication that these and other scandals are anything but "phony."
—-
> >Follow Noah Rothman (@NoahCRothman) on Twitter
—-
Editor's note: This post has been republished from an earlier date – Jon Nicosia
Have a tip we should know? tips@mediaite.com