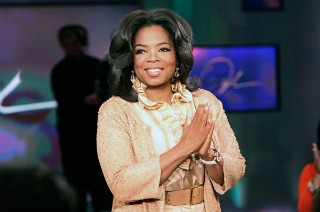 Entertainment mogul Oprah Winfrey has never been an especially political figure, let alone a polarizing figure. Even her 2008 endorsement of then Sen. Barack Obama was not especially offensive – her support for the popular "change" candidate merely mirrored the sentiments of the majority of her colleagues in the entertainment industry. But Winfrey's behavior has changed dramatically in the last month. Today, Winfrey has not only become expressly political but unmistakably racial. While the move has surprised some, Winfrey's turn towards controversial racial issues is precedented. Those who suggest that she may be embracing controversial racial causes as a vehicle for self-promotion are not without evidence to make that case.

Winfrey has exploded back into the political scene in recent days. She followed up her '08 endorsement of Obama with a recent endorsement of Newark Mayor Cory Booker for U.S. Senate. In May, the OWN network founder gave a speech before the graduating class of Harvard University where she backed controversial new gun control measures and comprehensive immigration reform. She has even lent her legendary status to promoting the president's ailing heath care reform law – prompting The Hill to ponder whether the star will lend the "Oprah Effect," in which virtually anything the entertainment legend endorses inevitably becomes more popular, to the Affordable Care Act.
But it is not just Democratic political causes that Winfrey has recently endorsed. She has taken a turn towards embracing even more controversial political stances of late, notably controversial racial politics.
In the wake of a jury's verdict which found George Zimmerman not guilty of the malicious act of murdering Trayvon Martin, Winfrey declared that this case was identical to the 1955 torture and murder of Emmett Till. To her, the lynching of the teen for the invented crime of "flirting with a white woman" by a mob of white men, their acquittal by a mid-century Mississippi jury, and the killers' subsequent bragging to the press about their involvement in the atrocity was the "same thing" as Martin's accidental shooting death.
After sustaining some criticism for her comments, Winfrey went on to double down on them in an interview promoting her new movie, The Butler. "Trayvon is the Emmett Till of our era," Winfrey asserted defiantly.
With conspicuous timing, Winfrey announced upon her return from a trip to Switzerland with a tale subjugation at the hands of a store clerk who, she alleged, refused to show her a nearly $40,000 pursue because it was presumed that Winfrey could not afford it. In spite of the fact that most of the planet could not purchase said purse, Winfrey implied that the clerk had determined that the object of Winfrey's attentions was out of her financial reach because she is black.
On Wednesday, the font of Beltway wisdom – POLITICO – revealed that politics is now Winfrey's "favorite thing." The story is peppered with an unmistakable dose of skepticism about her shift towards the controversial, noting that the timing of this evolution overlaps with the release of her first movie role in decades (a movie with a distinctly racial theme).
RELATED: Fox Guest: Is Oprah Pushing Racism Story to Promote New Movie?
Indeed, there is precedent for the suspicion that Winfrey likes to appeal to racial tensions when she needs a bit of a boost of support for the products she is promoting.
In 1998, when an Amarillo, Texas, jury ruled that Winfrey did not have to pay $11 million to a group of Lone Star State cattle ranchers who alleged that her show on Mad Cow Disease needlessly demeaned them and their industry, Winfrey claimed to be a victim of racial discrimination.
"I believed from the beginning this was an attempt to muzzle [my] voice," Winfrey said. "I come from a people who have struggled and died in order to have a voice in this country, and I refuse to be muzzled." Winfrey moved her show to Amarillo for the month of court proceedings.
In 2005, the world briefly stopped turning when Winfrey was refused entry to the prestigious Hermes shop in Paris. Though it was revealed that the store, which had closed minutes before, was refusing entry to all potential patrons, an unnamed friend of Winfrey's told the New York Daily News that if Celine Dion or Barbra Streisand had requested entry the store would have obliged. It is surely mere coincidence that Winfrey was planning a show on racial discrimination just days after the Hermes incident.
None of this is to say that Winfrey has not experienced racial discrimination in her life. Indeed, when so many powerful African-American women will admit to experiencing racism in some form, it would be an anomaly for the entertainment legend not to have suffered some form of discrimination in her life. But those Oprah fans that bristle at the suggestion that her recent embrace of controversial racial stances is motivated, at least in part, by a desire to drive interest in her upcoming movie, they must concede that there are many examples of past behavior which supports that suspicion.
In fact, the revelation that Winfrey is a savvy businesswoman is not much of a revelation at all.
—-
> >Follow Noah Rothman (@NoahCRothman) on Twitter
—-
Image via HARPO Porductions
—-
Editor's note: This post has been republished from an earlier date – Jon Nicosia
Have a tip we should know? [email protected]