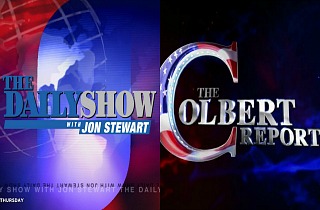 There is no question that the long-running cable news sendup programs on Comedy Central, The Daily Show and The Colbert Report, were innovators in their fields. These programs continue to have a large fan base and often enhance the national dialogue. These programs continue to serve some purpose, but the well of innovation at Comedy Central dried up long ago .

Any number of examples could be invoked to make this point, but let's take just two from Wednesday night's broadcasts of both programs.
On Stephen Colbert's show, the writers clearly wanted to make fun of the right-wing overreaction to a photo put out last week by the White House which shows President Barack Obama on the phone with his foot on the Resolute Desk in the Oval Office.
To make their point that conservatives are driven to irrational fits of outrage by even the most innocuous actions of this president, Colbert's producers cited clips of Fox News Channel's Red Eye hosts Andy Levy and Greg Gutfeld expressing their outrage over the photo. Except that they did no such thing.
The tightly edited clips which purport to show outrage cannot even be construed as genuine, given the mocking tone that both hosts invoked when discussing Obama's display of flexibility captured for posterity by White House Photographer Pete Souza.
The context of the segments Colbert cited clearly demonstrates that neither Levy nor Gutfeld took the photograph as a serious affront to the dignity of the Resolute Desk. Rest assured, if there was a clip of a Fox News personality that did, Colbert's producers would have featured that instead.
If The Colbert Report writers wanted to joke about this photo, they should have written a joke or two about the photo. Instead they wanted to lazily mock the right for the umpteenth time, but needed to quote a more relevant political commentator than, say, @NoBama2012SecretMuslim in order to establish that they were not conjuring outrage out of thin air. Even though that is precisely what they were doing.
Then, there is The Daily Show. The program, and host Jon Stewart, are practically American institutions. Institutions often grow sclerotic and lifeless as they mature, and this one is no exception.
Take, again as just one of many examples, a segment from Wednesday night's program. Here, Stewart expresses his unalloyed glee over the New York Mayoral candidate Bill DeBlasio's victory in the Democratic primary. But he expresses no interest in DeBlasio's progressive politics. No, his giddiness is explicitly due to the fact that DeBlasio's family is bi-racial.
DeBlasio does have a beautiful family, as Stewart makes quite clear. In fact, he chides the media for not fawning over DeBlasio's beautiful family as much as he does. Because conservatives are obsessed with race.
Then, featuring the footage of the DeBlasio family doing a choreographed dance maneuver on the stage at their election night victory party, Stewart's writers take the opportunity of that divinely inspired set up to… not even attempt a joke.
In fact, Stewart praises that moment as a bit of political brilliance. Certainly, had a conservative politician's family attempted a similarly cornball move, Stewart would effuse praise in the same manner. Right?
Maybe these programs believe that no one will call them out on their laziness. But they should. These programs employ teams of brilliant and experienced comedians. They do not have to be equal opportunity offenders to be cutting and witty; no one expects that either program will eschew the liberal editorial outlook that has become their brands. But the transparent lethargy with which the writers approach the subjects they seek to skewer has become impossible to ignore.
[Photo via Comedy Central ]
— —
> >Follow Noah Rothman (@NoahCRothman) on Twitter
Have a tip we should know? tips@mediaite.com