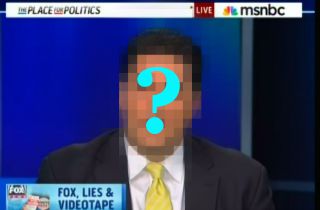 As MSNBC pivots back to hard news in the afternoon, Andy Lack's attention will turn to its editorial pages in the form of opinion programming.
Of course, The following programs are currently untouchable: Morning Joe, Hardball, and The Rachel Maddow Show. Everything else is on the table for changes or outright cancellation. Already this year, MSNBC has removed its early afternoon programs (Ronan Farrow Daily, The Reid Report) followed by the rest of the afternoon last week (The Cycle, Now with Alex Wagner, The Ed Show). The next stage will be primetime, where Al Sharpton (PoliticsNation), Chris Hayes (All In) and Lawrence O'Donnell (The Last Word) are vulnerable, according to a well-placed source.
According to Mediaite's Andrew Kirell, MSNBCers were buzzing about the possibility of Keith Olbermann's returning to the network. Makes perfect sense considering Olbermann is a first-ballot MSNBC Hall of Famer and had easily the most buzzworthy program on the network in its 19-year history. And as you may have heard, Brian Williams is also coming to the cable network after a long suspension. Whether he lands in dayside or at his old spot of 8:00 p.m. is the only question (likely the former, according to Stephen Battaglio of Los Angeles Times Saturday and Dylan Byers three days from now).
But one name that deserves a good, long look is Cenk Uygur. The 45-year-old host of The Young Turks on YouTube is a former MSNBC host who was ahead of his time — the Donald Trump of political talk in an arena that felt he was a little too candid with the whole speaking-truth-to-power thing. For those who missed it, Uygur and MSNBC apparently divorced because the host was too tough on President Barack Obama and pushed a decidedly harsh anti-Washington tone.
But you see how the aforementioned GOP frontrunner is resonating and observe the overwhelming coverage he's receiving, and you can see how a mirror image on the opposite side of the political spectrum, in the form of Uygur, could work in corporate cable news now when he couldn't before (despite the host's public disdain for the network). One catch: you need to pair him with some kind of a conservative…Michael Steele (former head of the GOP and current MSNBC contributor) would be a fine choice. This way, you can avoid the echo chamber that has plagued MSNBC while actually offering something compelling while challenging Uygur in the process.
Of course, Cenk will say he wants nothing to do with MSNBC, will say he loves the freedom of having an uncensored show on the internet that answers to no one. You have to respect that. But if offered the right platform (10:00 or 11:00 p.m. would work best), if promised no interference from above from an editorial perspective — which drove him out last time — he would wise to consider it.
It's always easy to bash ideas like this… But try to consider what the alternatives are: The best liberal talent out there is too high priced for the network…Jon Stewart, Bill Maher…or under contract elsewhere with a pretty sweet once-a-week gig (John Oliver). The choices aren't exactly plentiful…and you know with Uygur he'll come hungry to work every day.
Many say MSNBC hasn't been the same since Olbermann left. I say Uygur should be part of that last sentence. Both were brutally candid and fearless. You may disagree with the message, but not the performances built on passion, vexation with a healthy dose of cynical humor mixed in.
MSNBC will undergo more big changes as the Super Bowl of cable news (the 2016 campaign) goes full-throttle. Straight news will rule daytime after Morning Joe. The new evening editorial page still needs to be settled.
Go after Olbermann? Sure. But with two, possibly three time slots to fill, Cenk Uygur is worth inviting in for a conversation as well.
— —
>> Follow Joe Concha on Twitter @JoeConchaTV
Have a tip we should know? tips@mediaite.com