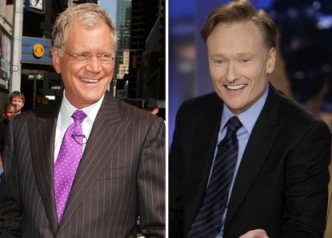 The ratings battle for first place in late night that was predicted when Conan O'Brien took over The Tonight Show from Jay Leno has come to fruition. On a weekly basis, O'Brien and CBS' Late Show with David Letterman trade off the top spot (although they both have been getting beat by ABC's Nightline).
The race in the ratings means a fluid fight for supremacy on the Mediaite Power Grid. O'Brien is currently 5th, Letterman is right behind him in 6th, but will the numbers hold when the grid gets updated Wednesday? Let's take a look at the rest of the entertainment hosts.
Besides being Ruler of the Universe one of the most powerful people on the planet, Oprah Winfrey sits, and is likely to stay, at the top of the rankings. Oprah disciple Dr. Phil McGraw is #3.
After Conan and Letterman in the Top 10, it takes a while to get to the rest of the late night hosts. Conan's replacement Jimmy Fallon is 25th, likely helped by his strong Twitter presence (more than 1.5 million followers). ABC's late night line-up, Jimmy Kimmel, is 42nd and CBS' Craig Ferguson is 43th.
The Comedy Central hosts are represented in the top 50 as well, but a bit further down. Despite big Google Buzz, the ratings of a cable network just can't compete with the broadcast outlets. Jon Stewart is 44th and Stephen Colbert 50th.
There are several daytime hosts in the top 50 as well. Ellen DeGeneres is 10th (first in Twitter followers), Rachael Ray is 33rd and Tyra Banks is 36th.
These won't be huge leaps with these talk show hosts – Ellen will likely never top Oprah, Rachael Ray will never top Ellen, etc. But the little battles (can Colbert beat Stewart?) are important to watch. And of course, the Letterman/Conan ratings fight continues…
– Check out all the TV Anchors/Hosts
—–
• Follow Steve Krakauer on Twitter
Have a tip we should know? tips@mediaite.com