'Where Does It End?': MSNBC'ers Fret Over SCOTUS Giving More Rights to Corporations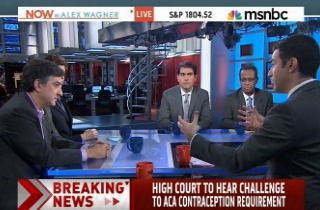 Following an announcement on Tuesday that the United States Supreme Court would decide the constitutionality of the Affordable Care Act's contraception coverage mandate, a panel of guests on MSNBC's Now expressed concerns about the extension of individual rights to corporations. "Where does it end?" asked former New York Times opinion columnist Bob Herbert.

"The idea of giving religious freedom to corporations," Daily Beast columnist Sally Kohn began. "If all the sudden we decide corporations have religion, then a lot of them have a lot of repenting to do for their sins, so that should be good to watch."
RELATED: Supreme Court Takes Up Challenge to Obamacare's Contraceptive Mandate
She said that there are only a "small minority of religious folks" who, for example, oppose having the views of the majority imposed on them but also advocate for the imposition of their views upon others "through things like denying contraceptive coverage to their employees."
She added that this behavior "contradicts everything we stand for as a free society."
"The conservative majority on this court has granted lots of rights to corporations over the last few years," Daily Beast contributor Michael Tomasky added.
"This is another reason why we should have moved toward a single payer system of health coverage, because we're just going to end up with one challenge after another – whether it's in the courts or outside of the courts – and I just don't see an end to this," Herbert submitted.
"We're already on the slippery slope of corporate personhood," he continued. "Where does it end?"
Kohn added that the "benefit" of incorporation confers a "special category of rights" on entities. "The tradeoff for that, you lose certain other freedoms," she insisted. "The slippery slope here is, we treat corporations so darn well in this country, maybe as individuals we can all incorporate?"
Watch teh clip below via MSNBC:
[Photo via screen grab ]
— —
> >Follow Noah Rothman (@NoahCRothman) on Twitter
Have a tip we should know? [email protected]