Where Is Ed Schultz's Weekend Show? The MSNBC Host Responds To Conspiracy Rumors
Where Is Ed Schultz's Weekend Show? The Host Responds To Conspiracy Rumors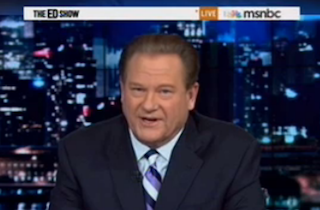 Last night, Chris Hayes made his primetime debut on MSNBC, officially stepping in as Ed Schultz's replacement in the 8 p.m. slot. Perhaps this led some of you to wonder how the end other of that transition — Schultz's weekend show on the network — is doing. Fending on any conspiracy theorists, Schultz addressed issue on his radio show yesterday, informing that there may be no show yet… but that doesn't mean he's going anywhere.
RELATED: All In With Chris Hayes Keeps The Host's Promises
Schultz pointed to rumors he saw on Twitter, which suggested the shuffle may actually be part of a larger MSNBC strategy to gradually show him the exit. He stressed that isn't the case.
"I just want all of you to know there's no conspiracy going on here now because there has not been a date given for The Ed Show to relaunch," Schultz told listeners, adding that he's going to be at MSNBC for "a long time."
"We're putting together, we've got a good number of staff members ready for the The Ed Show on the weekend and the rest of it's going to be added in the coming days, and we'll get a date!" Schultz pressed, going on to ask, "What's the rush?"
The host underscored that he's given the opportunity to put together the kind of show he wants, asserting he'd never "mislead anybody" on the situation. While Schultz's show has yet to get a date, Hayes' new show debuted less than three weeks after Schultz signed off. Hayes, however, does have valuable primetime cable news real estate.
Listen to Schultz's response below:

(h/t Newsbusters)
Have a tip we should know? tips@mediaite.com