'Where Is This Plane?': Don Lemon Really Wants to Know What Happened to Missing Jet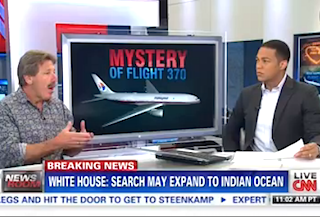 There are only so many questions a cable news anchor can ask. After declaring the he would "spend the next two hours covering all angles surrounding the mystery of Malaysia Airlines 370," Don Lemon welcomed a veteran Boeing 777 pilot to CNN and asked him the one question everyone wants answered but no one has the answer to: "Where is this plane?"
"When you sat down I wasn't really joking, it may seem that way, but I was like, where is this plane?" Lemon asked Les Abend. "Where do you think this plane is?"
"It's a tough one," the pilot said, before struggling to come up with some sort of coherent answer for Lemon. "You know what you're dealing with is a situation — the airplane is highly sophisticated, Boeing makes an incredible product. It communicates internally within itself. It also communications to the airline via dispatch, to the maintenance facilities. So something catastrophic had to occur for in order for that communication to be cut off. Where it is, that's a tough question."
Yesterday, CNN's Chris Cuomo took pains to explain why his network is spending so much time reporting on a story about which very little information is known. On a story that has "more questions than there are answers," Cuomo said, one way to keep viewers informed is to be "everywhere the story is," something he promised CNN would continue to do with or without new information.
Last night, CNN spent several hours of prime time focused on Chinese satellite images that supposedly showed part of the plane wreckage in the ocean. Today, China is apparently saying those images were released "by mistake" and are unrelated to the Malaysia Airlines flight. And now, a report from the Wall Street Journal showing the plane may have stayed in the air for an additional four hours after reaching its last confirmed location, means the search area has widened significantly.
With so many conflicting reports and overall lack of concrete facts, it's no wonder someone like Lemon might get a little frustrated and want someone to just tell him where the plane is already.
Watch video below, via CNN:
[h/t TPM]
[photo via screengrab]
— —
>> Follow Matt Wilstein (@TheMattWilstein) on Twitter
Have a tip we should know? tips@mediaite.com