Where's Joe Scarborough's Outrage Over James Hoffa 'Wipe These People Out' Remark On Morning Joe?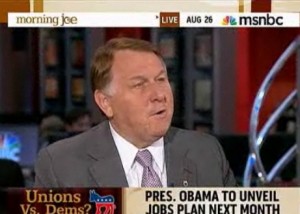 On Tuesday's Morning Joe, host Joe Scarborough led off the broadcast with predictable outrage over Teamster president James Hoffa's remarks at a Labor Day event, in which he urged the crowd to "take these sonofabitches out," referring to congressional Tea Partiers. He called on the President to denounce the remarks, yet seemed unaware that Hoffa had made an almost identical statement on Morning Joe less than two weeks ago. Will he be denouncing his own program by day's end?

That's right, not two weeks ago, James Hoffa (not Jr.) told the Morning Joe crew, "maybe the answer is, we wipe these people out," eliciting nary a wince from host or panel, nor a peep from the conservative media. Granted, he didn't say it before a presidential speech, but if yesterday's remark is so apocalyptically incendiary, you'd think this one would merit a raised eyebrow or two.
One reason it might not have is that the full quote, "There's going to be an election in '12, and maybe the answer is, we wipe these people out," makes clear that he's referring to electoral remedies. Of course, yesterday's freakout-inducing remark also contained such a qualifier, one that was left out of Morning Joe's discussion.
Scarborough observed that "there seems to be a rule here which is don't say really mean things that coarsen the debate, could encourage violence, unless you're a Democrat and then it's okay," later adding, of President Obama, "If you support me, you can say, 'We're going to take people out.'"
The White House has not issued a statement as yet (they likely will do so shortly), but Scarborough seems to have a double standard of his own here, allowing the White House scant hours to react to Hoffa, while Scarborough has gone nearly two weeks without commenting on Hoffa's outrage on his own show. It is fair, though, to point out that Scarborough wasn't on the premises when Hoffa made the comments.
President Obama wasn't on the premises yesterday when Hoffa made his remarks either, but despite the fact that Willie Geist corrected Scarborough on-air about that point, Scarborough continued to assert, hours later via Twitter, that Hoffa "introduced" the President, and continued to demand immediate denunciation.
Press Secretary Jay Carney is set to brief in less than an hour, Where he will surely be asked about this. Once he responds, Scarborough and everyone else can judge the merits of the response. In the meantime, though, Scarborough ought to heed his own advice, and address the comment Hoffa made on his own show. If it was no big deal, then he ought to adjust his attitude about yesterday's remarks.
Here's a clip of Scarborough's complaint this morning, followed by Hoffa's comment from the Aug. 26 Morning Joe:
Have a tip we should know? tips@mediaite.com