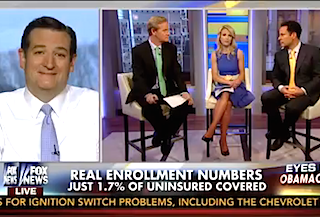 One day after Fox News' Jenna Lee pushed Sen. Lindsey Graham (R-SC) to explain why Republicans have not presented a viable alternative to the Affordable Care Act, Sen. Ted Cruz (R-TX) got some similar treatment from the team on Fox & Friends. Before he revealed his new tattoo, Cruz argued for the full repeal of Obamacare without indicating that he was working on a replacement plan of his own.
Once Cruz had laid out all of his various criticisms of Obamacare and reiterated his call to "repeal every word" of the law, host Steve Doocy threw some cold water on his point of view. "You are kind of in a minority when it comes to that," he said. "I know the democrats are saying mend it, don't necessarily defend it. But you look at the polling, Senator, and a lot of Americans like parts of it, would like to see parts of it continue, so to blow the whole thing up, I don't know if people are behind that."
Cruz countered by calling Obamacare "the most profoundly unpopular law we have seen in modern times" though he did not address the portions of the law that are quite popular, like the ability to stay on your parents' insurance through the age of 26 and the rule that prevents insurance companies from denying policies to people with pre-conditions. This time it was Brian Kilmeade who pushed back, asking, "Where is the Cruz plan?"
The senator skirted that question, saying that "the principles for common sense health care reform are well established" and that he and other Republicans have been discussing them for a long time. He said consumers need "more competition" and "more choice," citing the ability to buy insurance across state lines as an example.
Additionally, Cruz said, "We need to delink health insurance from employment so that if you lose your job, you don't lose your health insurance. Just like you don't lose your car insurance or life insurance or health insurance or your house insurance. And if you do that, then health insurance becomes personal, portable and affordable. That's the sort of reform that empowers consumers."
Of course, the "delinking" of insurance from employment is already present in the Affordable Care Act, as evidenced by the CBO report that predicted some Americans would choose to leave their jobs in the coming years precisely because they could now get affordable insurance on their own. But that's not how Cruz chose to see it last month, instead tweeting a gross simplification of the CBO findings with the hashtag #FullRepeal:
Obamacare will cost "the nation about 2.5 million jobs" – CBO #FullRepeal

— Ted Cruz (@tedcruz) February 4, 2014
Watch video below, via Fox News:
[photo via screengrab]
— —
>> Follow Matt Wilstein (@TheMattWilstein) on Twitter
Have a tip we should know? tips@mediaite.com