Last Friday morning, Russian soldiers reportedly invaded the Crimean peninsula of Ukraine and took over several airports. Since then, cable news has largely focused on the story now known as the "Ukraine Crisis." They have sent reporters overseas and dedicated a serious amount of airtime to breaking news about the situation, analyzing its political ramifications, exploring its economic impact, and outlining possible solutions.
Using TVEyes for research, we conducted a study to answer the following questions: Which cable news network has covered the Ukraine crisis the most? And which has covered the least?
The answers might surprise some.
When comparing the total minutes (not including late-night reruns), it became clear that CNN blew all other cable nets out of the water with the amount of time it devoted to news and analysis of the standoff: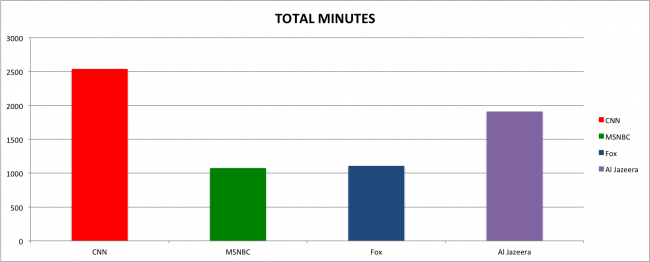 Over the six full days we surveyed, CNN gave Ukraine a total of 2,535 minutes worth of coverage, or, roughly 42 hours worth. Al Jazeera America came in second with 1,906 minutes (31.8 hours). This is especially astonishing considering AJA's live coverage began each day around 3 a.m. ET and ended at midnight.
So how did CNN rack up so much more time? The answer: Jake Tapper, Wolf Blitzer, and Anderson Cooper. The latter was on-the-ground in Ukraine starting Monday — the first of any anchors from the big networks. And when any of those three appeared on-air, you could guarantee almost a full hour worth of Ukraine news and analysis.
Much to its credit, AJA only came in second because, while it devoted a hefty amount of time to Ukraine, it also spent a great deal of airtime on turmoil in Venezuela and Syria, as well as the horrific stabbing spree in China. This likely fulfills AJA's desired reputation as a well-rounded source for international news.
Fox (1,103 mins.) and MSNBC (1,071 mins.) came in third and fourth place, respectively, and kept pace with each other for much of the week: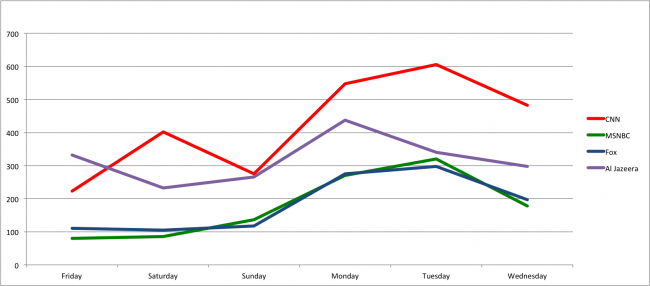 Fox eked past MSNBC thanks, in part, to Shepard Smith's on-the-ground reporting from Crimea. Their progressive rival, on the other hand, did not have an MSNBC anchor in the region. All four networks experienced a drop-off in coverage on Wednesday when developments in the story began to slow.
How Did Each Network Cover Ukraine?
From viewing six days worth of coverage, we gained insight as to how each channel tackled the ongoing crisis. CNN's focus remained largely on breaking news and interviews with diplomatic experts and elected officials. Both Fox and MSNBC also did a large amount of breaking news coverage, but, otherwise, the discussion was peppered with distinct editorial angles.
Fox's analysis tended to focus on criticisms of President Obama's response as "weak" compared to an aggressive Vladimir Putin. The network's panel discussions also looked at questions of how this story contradicts former Secretary of State Hillary Clinton's "reset" with Russia; and how Mitt Romney and Sarah Palin had previously predicted a Russian invasion and were mocked for it.
MSNBC's analytical discussions of the crisis tended to focus on a perceived Republican "admiration" for Putin. Several shows attacked the psyche behind the conservative suggestion that American foreign policy needs to be "manly" and more aggressive.
Will It Pay Off for CNN?
It's always risky to devote ample airtime to international stories, seeing as most TV viewers quickly lose interest. CNN has taken a gamble by going nearly wall-to-wall with Ukraine, and it has seemingly paid off in small increments. For instance, Wolf Blitzer's Friday evening reporting gave CNN a rare 5-7 p.m. demo victory over MSNBC — a victory that occurred again on Tuesday evening.
Whether or not this proves an actual trend over a longer period, we shall see.
— —
>> Follow Andrew Kirell (@AndrewKirell) on Twitter
Have a tip we should know? tips@mediaite.com