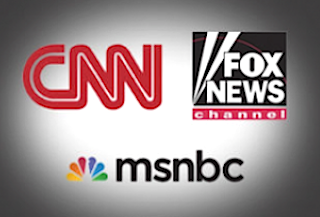 The Union of Concerned Scientists is out with an annual report of climate science coverage accuracy in cable news, and according to the group's research, Fox News had by far the least factual reporting on the issue in 2013. Out of 50 climate science segments last year, only 28% were "entirely accurate" while 72% contained "misleading portrayals" of the science. However, those numbers represent a marked improvement for Fox, which got climate science right only 7% of the time in 2012 according to the previous year's report.
MSNBC was way out in front, not only with the volume of reports on climate, but also in those reports' accuracy. Out of 132 segments in 2013, the UCS deemed 92% of MSNBC's coverage "entirely accurate," with only 8% containing errors. When MSNBC did get things wrong, it was due to an overstating of the effects of climate change.
CNN covered climate science the least of the three big networks, dedicating just 43 segments to the issue last year. Of those, the UCS said 70% were "entirely accurate," with 30% containing misleading content. Whereas MSNBC's problems came from exaggerating the effects of climate change, CNN's came from hosting climate change deniers in debates. The group suggested the one thing CNN could do to rectify their errors would be to "stop hosting debates about established climate science and instead focus debates on whether and how to respond to climate change through climate policy."
And which Fox show was by far the biggest offender when it came to inaccurate climate coverage? That would be The Five, which was the source of more than half of the network's misleading segments, the study claimed.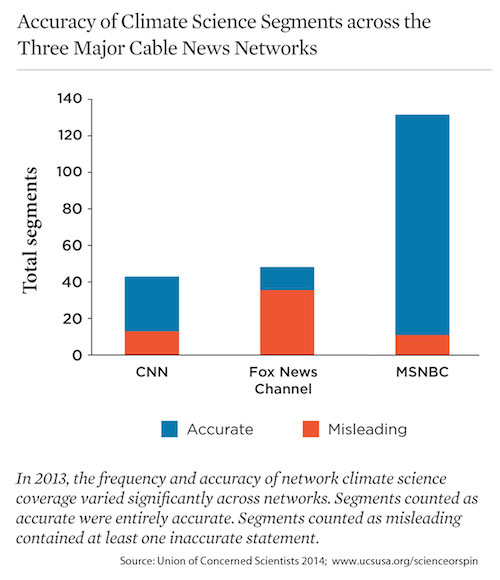 [h/t POLITICO]
[photo via screengrab]
— —
>> Follow Matt Wilstein (@TheMattWilstein) on Twitter
Have a tip we should know? tips@mediaite.com