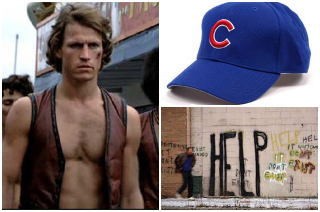 Warning: New York City is about to dissolve into a dystopian hellscape—again!—following a judge's decision on Monday that Stop 'n Frisk is unconstitutional. That's at least according to Mayor Michael Bloomberg and the quick media slapback this morning. The only question now is which crumbling American polis New York will most resemble once the anarchy is unbottled.
In corner one, we have former New York Governor George Pataki telling Morning Joe that without Stop 'n Frisk, New Yorkers might as well root for the Cubs. "If Holder and Obama want to investigate a police department, why don't they look at Chicago, where the civil rights of African Americans are being not only taken away but they've being murdered in record rates on the south side of Chicago?" Pataki asked. "The policing there leaves something to be desired when it comes to protecting the constitutional rights of young African Americans to walk the streets."
Slightly less explicably, on Fox and Friends Republican mayoral candidate Joe Lhota warned that the decision put Gotham one rainy day away from a full-on case of Detroit.
"This judge has put every great thing that's happened in New York City over the last twenty years at risk," Lhota said. "The reason why our economy is growing, the reason why the number of people are moving here, the reason why tourism is growing so much, is that this is the safest large city in America. This single act alone is enough to cause it to go in another direction. It's another step closer to making New York City like Detroit." (While Lhota has a minor point about tourism's role in NYC's economy, Detroit's problems are due to the generation-long dissolution of the manufacturing industry; crime is an animation of its problems, not the cause.)
But never, ever count out the New York Daily News, which portends that New York City might become New York City:
I'm totally going to a Ramones show.
Watch Lhota's clip below, via Fox News:
————
>> Follow Evan McMurry (@evanmcmurry) on Twitter
Have a tip we should know? tips@mediaite.com