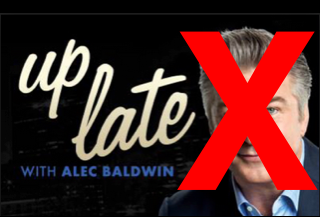 Less than two months after Alec Baldwin's talk show Up Late debuted on MSNBC, it has officially been canceled. The show never had amazing reviews, or great guests for that matter. But what if MSNBC's mistake wasn't putting a high-profile left-leaning celebrity in its Friday night time slot, but just that they picked the wrong one.
Baldwin was a promising figure for the network–a typically charming, funny actor who is passionate about politics displayed some excellent interviewing skills on his WNYC podcast "Here's The Thing." But then there was his off-screen life, which from the outside mostly consisted of the actor screaming possibly-homophobic slurs at the paparazzi to get away from his family, creating a vicious cycle that only made them want to follow him around the streets of New York more.
There have to be other, equally impassioned celebrities out there who are controversial enough to create some buzz but somewhat less prone to saying and doing things in public that discredit the very beliefs they supposedly hold dear. Of course, the reality is that after everything Baldwin has gone through over the last few weeks, no star in their right mind would give up the cushy job of pretending to be other people in TV and movies to put beam their actual selves out into the world on a weekly basis for MSNBC.
But that won't stop us from suggesting they give it a try…
Below are the pros and cons for all the Hollywood liberals who MSNBC should be pursuing right about now, along with odds for how likely each one is to actually happen:
Gallery unavailable
[photos via Wikimedia Commons]
— —
>> Follow Matt Wilstein (@TheMattWilstein) on Twitter
Have a tip we should know? [email protected]