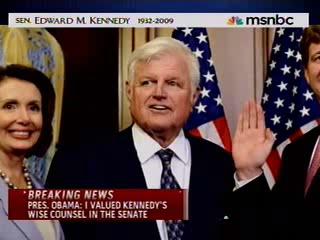 Sen. Ted Kennedy passed away early this morning and it hit the cable news networks as a bit of a surprise.
InsideCableNews has a good live blog of the way each network handled the news overnight, and it highlights how the coverage has continued into this morning – with MSNBC and CNN going wall-to-wall, and Fox News finding a few pockets for coverage while continuing to bash Pres. Obama's health care plan relentlessly.
Here's a telling passage of Fox & Friends coverage, at 6:12amET, as they transitioned away from Sen. Kennedy news to other stories:
Brian Kilmeade: It will be everybody. It will be a lot of people coming up to speak and eulogizing the passing of Sen. Ted Kennedy at the age of 77, meanwhile we're going to be covering other issues this morning.

Gretchen Carlson: Yeah because health care, that's still front and center with the American people right now. The Democrats are having a hard time selling their plan.
Or maybe it was when country music star Jack Ingram was singing his hit "Barefoot and Crazy" on a makeshift stage in the Fox & Friends studio near the end of the 8amET hour.
To be fair, FNC launched its morning program 40 minutes early, and spent the time covering the death of Kennedy. But it was the only network that seemed antsy to get to other news. The town hall coverage, in Fox News' usual protester-supporting way, was the top story on Fox & Friends. Interestingly, during America's Newsroom which followed at 9amET, the program devoted the same 12 minute opening to Kennedy, before moving to other stories and leaving Kennedy coverage behind entirely.
On CNN, the coverage has been wall-to-wall like on MSNBC. But the network has seemed to hit more of the memes highlighted by Colby Hall today. With all the talk of bi-partisanship and "liberal lion" and the Kennedy legacy, there were discussion that involved Chappaquiddick as well.
Also, we get word from CNN about an interesting programming decision regarding Kennedy's passing. From 7-9pmET, Campbell Brown will host an airing of the recent HBO documentary, "Teddy: In His Own Words."
The documentary was well-reviewed when it premiered last month, and will give CNN a unique perspective when it covers the death in prime time tonight.
While on MSNBC, as Brian Stelter described it on Twitter, the coverage was like a "wake." Questions like whether Kennedy was the "most effective Senator in the history of the country" were thrown around, and it was largely a celebration of his life.
Mike Barnicle, Chris Matthews, Joe Scarborough, Pat Buchanan and more weighed in throughout the morning, from 5amET and well after 9amET when Morning Joe usually ends, the tributes poured in. It was at times very moving, but the storylines were largely positive.
There will be more coverage throughout the day, and week. We'll see if anything surprising comes out.
—–
» Follow Steve Krakauer on Twitter
Have a tip we should know? tips@mediaite.com