White Candidate Who Pretended to Be Black to CNN: Only 'Liberal News Media' Feels Deceived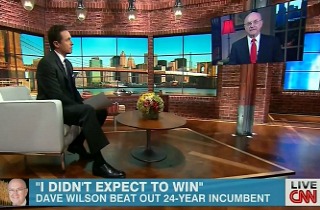 Dave Wilson, a Texas Republican who beat a 24-year Democratic incumbent last week by implying strongly in his campaign literature that he was black, appeared on CNN's New Day on Tuesday morning where anchor Chris Cuomo grilled him over his "campaign of evasion" and deception.

"I wanted to run this campaign on the issues, not my skin color," Wilson said when asked why he didn't put his image on campaign literature. "Because it was an African-American district, I didn't feel like putting my picture on any of those brochures would get me any votes."
RELATED: White Texas Conservative Wins Election by Pretending to Be Black
When asked if he was being deceptive, Wilson replied that he was using targeting marketing practices. "You can't sell maternity clothes to a bunch of men," he added.
"Shouldn't the voter know who you really are?" Cuomo asked.
Wilson replied that he had appeared at a number of public events and his campaign's YouTube page features him speaking to local voters. Wilson added that his opponent circulated images of him with "inflammatory, racist" comments which were designed to inform voters of his background.
"Didn't you kind of stain your own victory here?" Cuomo probed. "You wound up winning the race anyway. Don't you wish you would have done it in a way that wouldn't call into the legitimacy question?"
"I think people in that district are not getting enough credit in their intelligence and who they're voting for," Wilson replied. He said that voters were making a statement about their incumbent when they elected him.
Cuomo pressed Wilson to concede he was attempting to mislead voters with a "ploy" to suggest he was endorsed by a popular black Congressman from the area when he was not. Wilson conceded that this tactic was a ploy, but he didn't appeal to that before he was attacked by his opponent in a "racist" manner.
Cuomo asked again if Wilson would admit that he wanted to "cloud the judgment" of voters about his race. Wilson refused to admit to this charge. "I wanted to focus that race on issues," he said.
"Doesn't it all add up to a little bit of a campaign of evasion, to be honest?" Cuomo asked.
"I live in that district," Wilson replied with a laugh. "The people that said they're deceived is my opponent, Bruce Austin, and the liberal news media."
Watch the clip below via CNN:
[Photo via screen grab ]
— —
> >Follow Noah Rothman (@NoahCRothman) on Twitter
Have a tip we should know? tips@mediaite.com