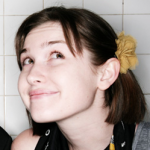 The 1954 musical is divisively campy and barely even about Christmas–but it's been a longtime favorite in my family and I've got a well-worn VHS copy with Channel 22 news promos from 1987 to prove it. Enjoying White Christmas is an exercise in abandoning all cynicism, and isn't that what the holiday's all about? Here's how to get the most out of the Irving Berlin classic.
Note: Alas, a few of these videos have been pulled from YouTube and we can't find replacement clips, but (a) You've probably seen this movie by now, so you know what we're talking about, and (b) If you haven't, it's on tonight on AMC and, really, what are you waiting for? That said, the film has been broken up on YouTube and you can watch it there if you're really impatient; here's a link.
The Haynes Sisters: Sure, the sisters are both blindingly blonde, but I've always loved the juxtaposition between the curvy, husky-voiced Betty (Rosemary Clooney) and the diminutive, light-on-her-feet Judy (hyphenated goddess Vera-Ellen, who was said to have the "smallest waist in Hollywood" at around 18 inches).
Danny Kaye: The movie was a vehicle for superstar entertainer Bing Crosby, but Kaye steals every scene. The former stage actor was adept at physical comedy and fast-talking and made a killer dance partner for Vera-Ellen. Rumors circulated about Kaye's homosexuality and some biographers have made allegations of an affair with Laurence Olivier. Kaye was clearly a ham, and brings the fun to every number he's in, even the tepid "Choreography:"
Again with the waist and the dancing: White Christmas has an unembarrassed affection for "the number," with many songs and bits having little to no introduction. In this scene, I like to imagine director Michael Curtiz was just like, "Vera, here's your direction: hot guy, his shoes match his pants, fucking go for it."
Intellectual property, schmintellectual property: The big number, "Minstrel Show," is clearly a rip-off of the iconic choreography of "Diamonds Are a Girl's Best Friend" from Gentlemen Prefer Blondes, released a year earlier. And you know what? I don't care. The more blonde chicks falling acrobatically down stairs the better, I say!
Americana: Hey, maybe one day veterans of the War on Terror will be singing nostalgic showtunes at a bed and breakfast in Vermont! No? Well, how cool are these set pieces?
Bing!: How much do I want Crosby, all big-eared and weepy-eyed, at my house on Christmas morning, crooning away on the baby grand? Guy is Christmas. Bing is more Christmas than Santa and baby Jesus and Mariah Carey put together.
Have a tip we should know? tips@mediaite.com