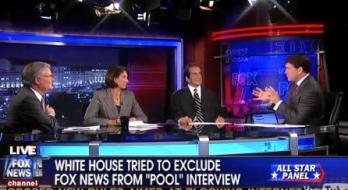 Mediaite has learned more about what happened with the decision by the Treasury Department to exclude Fox News in a round-robin of pool interviews Thursday.
But more importantly – there are more details emerging about the uproar over the initial decision, causing the Treasury Department to reverse their decision.
Fox News SVP of news and editorial programming Michael Clemente tells Mediaite the plan was to replace the Fox News interview with a Bloomberg interview instead. This was verified by an executive at another network. After the D.C. bureau chiefs at ABC, CBS, CNN, NBC and Fox News discussed the decision, and pushed back at the unprecedented move, the Treasury Department relented and allowed FNC in. And according to Clemente, the decision was made by someone at the center of the White House vs. FNC feud. "They picked up the phone and called Anita Dunn, and Dunn said, 'Fine let Fox in,'" he says of the Treasury Department.
"It was a very absolutely clear attempt to leave Fox out," says Clemente.
The White House apologized to FNC yesterday for the move. "We were subsequently told it was a mistake by a low level person at the Treasury Department," says Clemente. "Major [Garrett] was told that by Robert Gibbs and others."
In the wake of the report Thursday on Fox News, the Treasury Department, a White House spokesperson and others have raised doubts about the original story, citing the fact that FNC did conduct the interview. "That's what ultimately happened but that's not what the initial planning was," says Clemente. (Mediaite reporter Tommy Christopher has been in contact with Fox News before and after the publication of this article, and they cited the CBS Evening News report added to the article, rather than commenting directly.)
CBS News D.C. bureau chief Christopher Isham also serves as the pool chair. He tells Mediaite he convened a conference call and all the bureau chiefs agreed they were not comfortable with excluding one of the members of the pool in a pool interview.
The news has gotten a reaction from around the media world – with reports from CBS News and the AP, among others. And all show, once again, the White House losing the battle it has chosen to wage with Fox News.
We asked Clemente if he sees the fight as a 'net gain' or 'net loss' for his network. No surprise here:
Net gain. It just further defines for people that we do our journalism really well, have very strong opinion shows. It would have been better I would think for the White House's sake if this never happened, but these are decisions that are made by Anita Dunn and the press office, and we have been dealing with for over 2 weeks now, if not longer. We have to deal with it as long as have to deal with it.
—–
» Follow Steve Krakauer on Twitter
Have a tip we should know? tips@mediaite.com