White House Calls Sarah Palin's Pete Rouse Accusations 'Silly' and 'Baseless'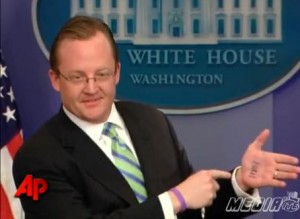 On the heels of President Obama's announcement of Chief of Staff Rahm-placement Pete Rouse, ABC News' Jake Tapper asked Press Secretary Robert Gibbs about accusations leveled by former Alaska Governor Sarah Palin. The accusations, detailed on Tapper's Political Punch blog, center around Rouse's connection to Alaska, and suggest he was involved in pushing an ethics investigations of Palin.
Gibbs dismissed the accusations with a chuckle, calling them "silly" and "baseless."
Tapper begins by asking about Rouse's voter registration, then details some of Palin's tweets and statements on Rouse. The question seemed ripe for a lengthy sound-bite of a reply, but Gibbs elected to keep it brief:
Palin infamously blamed ethics investigations for her resignation as Alaska governor, and Tapper notes that Palin's then-spokesperson seemed to place a hefty share on Rouse:
After Palin resigned her governorship, Palin adviser Meg Stapleton told TIME that attacks against the governor and her family were from the White House.

"A lot of this comes from Washington, D.C. The trail is pretty direct and pretty obvious to us," Stapleton told the magazine, alluding to The Thumpin'. "It's the Sarah Palin playbook. It's how they operate." The magazine wrote that "Palin and her Alaska circle find evidence for their suspicions about the White House in the person of Pete Rouse, who lived in Juneau for a time before he became chief of staff to a young U.S. Senator named Barack Obama. Rouse, they note, is a friend of former Alaska state senator Kim Elton, who pushed the first ethics investigation of Palin, examining her controversial firing of the state's public-safety commissioner. Both Rouse and Elton have joined the Obama Administration."
The back-and-forth on this isn't likely to change anyone's mind about Palin or the Obama administration, but will, rather, confirm what they already believe. To the disinterested observer, though, Palin's accusations can cut both ways: Some will see fire behind the smoke, others will see only smoke, mirrors, and perhaps some tin foil.
Have a tip we should know? tips@mediaite.com