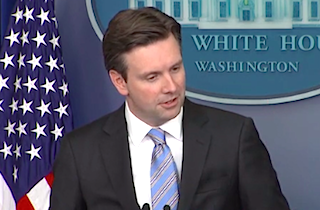 As controversy erupted this week surrounding an outbreak of measles due to parents who refuse to vaccinate their children, a video emerged from 2008 that shows then-candidate Barack Obama appearing to acknowledge a link between vaccinations and autism. But as Mediaite Evan McMurry and others pointed out Tuesday, it is not clear that Obama was actually saying he believes the science was "inconclusive."
White House Press Secretary Josh Earnest was asked about Obama's 2008 comments during today's press briefing, and while he did not get into the weeds of what exactly the president meant and who he was pointing to when he said the words "this person included," he did confirm that Obama no longer believes there is any connection to be made.
"We do know that at the time that the president was speaking there was a study that has since been debunked that indicated that there might be some connection between autism, or increasing rates of autism, and vaccines," Earnest explained. "But like I said, since that time — I believe that was in 2010 — that study was retracted because it was completely undermined based on additional scientific data that had been presented."
"So in the mind of the president, this is an issue that science has settled and that it is clearly the responsibility of parents all across the country to get their kids vaccinated for the measles," he added.
Indeed, it was in 2010, five years ago this week, to be exact, that the British medical journal The Lancet retracted its report by Dr. Andrew Wakefield that purported to show a link between the measles, mumps and rubella vaccine (or M.M.R.) and rising cases of autism.
That was two years after Obama made his remarks on the campaign trail.
Watch video below, via C-SPAN2:
And watch Obama's original comments below, via YouTube:
[Photo via CSPAN2/screengrab]
— —
>> Follow Matt Wilstein (@TheMattWilstein) on Twitter
Have a tip we should know? tips@mediaite.com