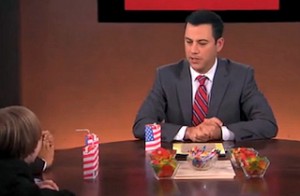 I know you've been waiting with bated breath for a resolution to this story, but wait no more, for the White House has finally responded to the petition to investigate Jimmy Kimmel Live! show because a six-year-old child ignorantly suggested killing everyone in China, which makes Jimmy Kimmel as bad as Hitler or something.
Just to recap, Kimmel asked a group of children (because they surely must have the same kind of insight as TV pundits) how to deal with America's crippling debt, and a little child said, "Kill everyone in China." ABC apologized, Kimmel apologized, there was global outrage, a member of the Chinese government demanded an apology, and angry people put a petition on the White House website to make Kimmel pay or something.
And now, after reaching the 100,000 signature threshold months ago, the White House has finally responded. And in between the fairly standard talking points about U.S. support of China and the fact that Kimmel already apologized, the White House is actually forced to state the bleeding obvious.
The Federal government cannot force ABC to remove this show. The First Amendment of the Constitution protects free speech, even if individuals might personally find it offensive or distasteful. It may be upsetting when people say things we might personally disagree with, but the principle of protected free speech is an important part of who we are as a nation.
Imagine that! 105,111 people who don't understand how free speech works! What a world…
And if you need to watch the clip that started it all, here it is, via South China Morning Post:
[h/t Business Insider]
[photo via screengrab]
— —
Follow Josh Feldman on Twitter: @feldmaniac
Have a tip we should know? tips@mediaite.com
Josh Feldman - Senior Editor