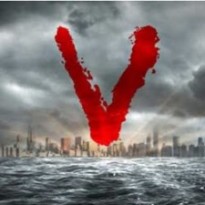 Many in the media, including Mediaite, have noted the allegories of the villains in ABC's series remake of the V miniseries and the Obama administration, or more accurately, the views of the administration's harshest opponents. The show's debut drew 14 million viewers, the most of any new series this season. I thought this was significant enough to ask for the White House's reaction. Not everyone agreed.
Here's a transcript of the conversation, while the video is embedded below:
Tommy Christopher: Robert, I have one question and one clarification. First, the new TV series on ABC, "V," a lot of people are talking about how this show draws very strong —

MR. GIBBS: I got to tell you — I'm going to start with this: I don't want to give anybody the impression I have time to watch anything other than what most of you all do each night. So I can't even tell you what that is or what it's about. If that makes me fairly un-cool, I tend to watch more "SpongeBob" than "V."

Tommy Christopher: There have been a lot of news stories about this —

MR. GIBBS: Makes me a hit with one six-year-old, and that really is all that counts.

Tommy Christopher: You haven't seen the news stories about how this show compares your administration to the alien invaders? (Laughter.)
Seriously, really, you haven't heard about it?

Q He couldn't admit it if he had. (Laughter.)

MR. GIBBS: Because there's a chip in the back of my head that requires me — (laughter) — I don't mean to — I honestly — I got to tell you, I spend — I watch a little football on Saturday, a little football on Sunday, and a lot of news every other time.

Q Get a life. (Laughter.)

Q (Inaudible).

MR. GIBBS: Pardon me?

Tommy Christopher: Fourteen million people watch it, and the show —

MR. GIBBS: And clearly, me not being one of them. Again, I —

[Cross-talk.] (Laughter.)

MR. GIBBS: Hold on. I'm not entirely sure who I'd check on since I don't watch the show.

Tommy Christopher: Well, check with the President, see if he has a reaction —

MR. GIBBS: I will assume that the President watches —

Tommy Christopher:– comparing him to a space alien.

MR. GIBBS: What's the — which would probably, like, be one of the least worst things he's been called today.

Tommy Christopher: One clarification from yesterday on the meeting with Clemente, it sounded to me like you were saying that Clemente requested the meeting. Can you —

MR. GIBBS: We both wanted to get together.

April.

Is "V" on — what network?

Jake Tapper: ABC.

MR. GIBBS: Okay. Can I get a little briefing after this from the —

Jake Tapper: We'll send you a tape before the end of the day.

MR. GIBBS: Excellent.

Tommy Christopher: It's serious.
Missing from the transcript are cracks from the peanut gallery about Spongebob Squarepants.
I sort of expected Gibbs to bust my chops a little since, on the surface, it seems a little bit silly. I wasn't prepared to be heckled by the bulk of the White House press corps.
But if you look a little more deeply at it, this could be a disturbing development. Although ABC and the show's star downplay the comparisons, those comparisons are nonetheless being made. The aliens come to Earth promising hope and change, notably in the form of truly universal health care. There are protesters who insist that the aliens are not who they say they are. The alien leader assuages the public, via an in-the-tank media, by saying "Embracing change is never easy."
When you put this in context with this summer's mega-hit Transformers 2, which casts the real-life (but offscreen) President Obama as a bureaucrat who wants to try "diplomacy" with the Decepticons, you can see the beginnings of a trend. This is especially noteworthy given the traditional view that Hollywood is an army of liberals.
Political allegory in science fiction is nothing new. Battlestar Galactica dealt with many of the Bush era's thornier issues, but didn't cast the administration as villains.
Whether it's propaganda, satire, or just a convenient coincidence for agitators on the right, the fact that these pretty harsh shots at the President are gaining such traction is worth paying attention to.
Update: From Jake Tapper (via email): "I'll be delivering Gibbs a copy of the first episode of V on Monday."
Have a tip we should know? tips@mediaite.com