White House Must Now Respond to Petition Seeking Obama Guest Spot For Bill Maher
White House Must Now Respond to Petition Seeking Obama Guest Spot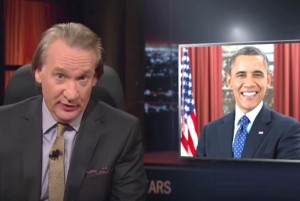 Democracy either died a little today, or got with the times, depending on your point of view. When the Obama administration launched the We the People petition system in 2011, the goal was to make for a more responsive government, requiring that once a petition reached a certain number of signatures in a given timeframe, the White House would have to issue a formal response. That threshold has been raised several times after it became clear that too many goofy petitions were getting through, but even at 100,000 signatures in 30 days, we still get 'em.
The latest benefactor of the system is comic and talk show host Bill Maher, who on Friday joined the likes of the Death Star, extraterrestrials, Gangam Style, Rush Limbaugh, and Piers Morgan as subjects of a White House petition when he implored viewers to get an answer from President Obama on an issue of vital importance: will he do the show, and if not, why not?
WE PETITION THE OBAMA ADMINISTRATION TO:

Ask President Obama to Appear on HBO's Real Time with Bill Maher

Herewith, on the occasion of Bill Maher's 60th birthday, we the people, especially viewers of Real Time with Bill Maher, respectfully request that President Obama appear on Real Time and thereby honor that particular audience (and their support for him), as he has so honored the viewers of so many other TV shows and media outlets; or if not, to please, respectfully, tell us why.
I could probably save Maher and his fans a little time here (no, because you gave his SuperPAC a million dollars), but what fun would that be? Then, we'd all be spared the silly precedent this will set, in which every tool with 100,000 Twitter or Facebook followers gets to waste the government's time asking the same question about their equally-entitled pet invitation (the answer to all of you is "no," because "you asked in a petition.").
So, instead, I'll just report that the petition has already exceeded the 100,000 signatures, and will require a White House response. It's a great day for democracy?
Have a tip we should know? tips@mediaite.com