UPDATE: President Obama Needed 12 Stitches After Being Hit In Lip During Basketball Game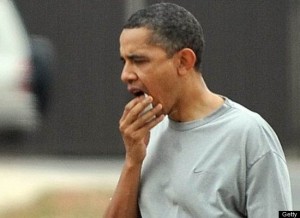 Update: The lip-elbower has been revealed! Scroll to the bottom to find out who hurt Obama.
First it was flying books, and now it's flying elbows. The White House has just announced that President Obama was injured today while playing basketball. After being hit in the mouth, the President needed 12 stitches in his lip.
"We all know Washington can be a tough town," said Fox News anchor Rick Folbaum while reporting on the incident. "The kind of town where you can get a fat lip if you're not careful." No kidding!
From The AP:
WASHINGTON — The White House says President Barack Obama has received 12 stitches in his lip after being hit during a pick up basketball game.

White House press secretary Robert Gibbs says the president was inadvertently struck by someone's elbow Friday.

The president received the stitches in the doctor's office on the ground floor of the White House. Obama had traveled to Fort McNair with a group of family and friends for an early morning game of basketball.
And here's some more information from the White House Press Office:
The elbow to Obama's lip "happened in the fifth of five games they played."

The offending player, who remains nameless, "turned into POTUS, who was playing defense, to take a shot when the elbow hit the President in the mouth."

Some of the players in today's 5 v. 5 game–"none of whom were responsible for the elbow" to the president's face–included Obama's nephew Avery Robinson, Obama's assistant Reggie Love and Education Secretary Arne Duncan.
The Press Office is now saying that Rey Decerega, the director of programs for the Congressional Hispanic Caucus Institute, is the ball player who accidentally elbowed the president. Here's what Decerega had to say in an unapologetic statement:
"I learned today the president is both a tough competitor and a good sport. I enjoyed playing basketball with him this morning. I'm sure he'll be back out on the court again soon."
Fox News's report on Obama's injury is below:
Have a tip we should know? tips@mediaite.com