White House Official Blows Off Trump's Offer To Pay For Tours: Can't Have Individuals Pay Secret Service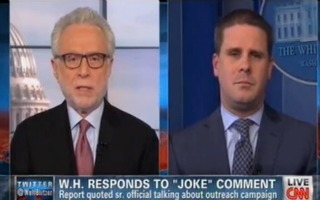 Dan Pfeiffer, White House Communications Director and Assistant to President Barack Obama, appeared on CNN with anchor Wolf Blitzer on Tuesday where he was asked to explain why the White House thought it was necessary to close the presidential residence to tourists as one of their first steps in accommodating the mandatory budget cuts in the sequester. Pfeiffer rejected an offer by real estate mogul Donald Trump to finance the White House's tour program.

RELATED: Ashley Judd Is 'Going To Be A Great Candidate'… Says Donald Trump
Blitzer played a clip of Sen. Rand Paul (R-KY) who took a swipe at the president's administration for closing Capitol Hill offices while continuing to approve of billions in foreign aid to nation's like Egypt with populations hostile to the U.S.
"What do you say to Sen. Paul?" Blitzer asked.
"The sequester is stupid policy," Pfeiffer asserted. "It requires you to do things you don't want to do."
"The choice with the tours was we could ask the hardworking and brave men and women of the Secret Service to take additional furloughs to essentially pay for Congress' inaction, or we could take the step that no one wants to take to close – to suspend White House tours," Pfeiffer added.
"Are you open at all to some private contributions?" Blitzer asked. "Donald Trump says he's ready to pay to resume those White House tours."
"It doesn't work that way," Pfeiffer said. "We can't have private individuals paying the Secret Service."
"This is about a very tough budget cut that the Secret Service has to take," he continued. "It's why we should have avoided the sequester to begin with."
"The Donald Trump option is not an option," Pfeiffer concluded.
Watch the segment below via CNN:
> >Follow Noah Rothman (@NoahCRothman) on Twitter
Have a tip we should know? tips@mediaite.com