White House Press Secretary Jay Carney Responds To Franklin Graham's Morning Joe Comments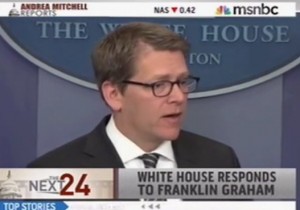 Sometimes, news is made, and sometimes, it's created. The Rev. Franklin Graham's appearance on Tuesday's Morning Joe is a fine example of the latter, the kind of cable news alchemy that spins media gold from mindless straw. Graham, son of revered teleevangelist Billy Graham, spent the morning in a logic-free attack on President Obama's faith, and at today's White House briefing, Press Secretary Jay Carney summarily dismissed it.
This isn't the first time that Rev. Graham has styled himself as the Simon Cowell of other people's Christianity, so his comments themselves could hardly be described as "news," but the logical contortions he made in diminishing the faiths of President Obama and former Massachusetts Gov. Mitt Romney, while stamping former Sen. Rick Santorum and former Speaker Newt Gingrich with the Graham seal of authentic Christian approval, made for great television. However, "shopping" Graham's comments to the White House, by today's news media standards, transforms a trainwreck TV moment into news.
Asked if the President had any reaction to Graham's remarks, Carney responded, "He firmly believes that getting an extra $40 in every paycheck is of vastly greater significance to most Americans than someone's opinion, expressed on cable television, about his personal faith, which again, he has spoken about explicitly as recently as a few weeks ago, at the National Prayer Service."
Now, this "controversy will feed the gaping maws of the hydra-headed media beast. The mainstream media will soberly recount the he said, she said about President Obama's religion (and decide that he is a Christian), liberals will be rightly outraged at Graham's presumptuousness (and perhaps at the fact that any news show bothers to book Rev. Graham; why not get Bobby Flay to talk foreign policy?), and conservatives will alternately amplify Graham's claims, and decry how he's making them all look bad.
In other words, a good time will be had by all.
Here's a clip of Carney's response, from Andrea Mitchell Reports:
Have a tip we should know? tips@mediaite.com