White House Reporters: No, Questions Are Not Submitted to Jay Carney in Advance
Currently the banner story at Drudge:

So, what's up with that? CBS-5's Catherine Anaya, one of several local reporters who interviewed President Barack Obama on Wednesday, filed a report claiming that White House Press Secretary Jay Carney said questions for press briefings were submitted in advance.
"So he knows what he's going to be answering," Anaya said, "and sometimes those correspondents and reporters have those answers printed in front of them, because of course it helps when they're producing their reports later on."
The claim was picked up by the Weekly Standard, where it was then mined by the Drudge Report for the siren above.
Members of the White House Press Corps unequivocally denied the story:
Right, reporters do not pre-ask Qs RT @PressSec: @RalstonReports Briefings would be a lot easier if this were true! Rest assured, it is not.

— Jennifer Epstein (@jeneps) March 20, 2014
@jeneps @PressSec I assure you I knew it was ridiculous. "Misunderstood" is an understatement. Has she ever watched a WH briefing?

— Jon Ralston (@RalstonReports) March 20, 2014
Hey @CatherineAnaya, I am not sure which WH briefing you are referring to, but, trust me, @PressSec doesn't get my Qs http://t.co/OLmpHeJhE0

— Jonathan Karl (@jonkarl) March 20, 2014
Fox News' Ed Henry batted down claims as well:
@DRUDGE_REPORT story is false

— Ed Henry (@edhenryTV) March 20, 2014
@CatherineAnaya are you correcting your false story claiming that questions at WH briefings are scripted? http://t.co/QQcKqJKvEp

— Ed Henry (@edhenryTV) March 20, 2014
Shame!! get real RT @StellaShortino @edhenryTV If true, you have sold out American Public & Constitution & contributed to the death of press

— Ed Henry (@edhenryTV) March 20, 2014
Carney also refuted the claim:
.@RalstonReports Briefings would be a lot easier if this were true! Rest assured, it is not.

— Jay Carney (EOP) (@PressSec) March 20, 2014
UPDATE: Anaya issued a retraction of sorts, which was eventually deleted from CBS's KPHO-TV website. Reporter Will Arthur screen-grabbed it, as seen below: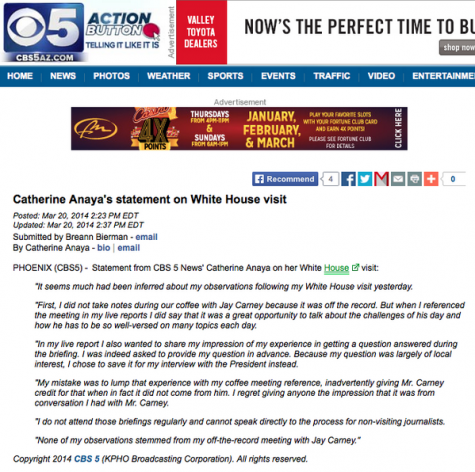 The text:
"It seems much had been inferred about my observations following my White House visit yesterday.

"First, I did not take notes during our coffee with Jay Carney because it was off the record. But when I referenced the meeting in my live reports I did say that it was a great opportunity to talk about the challenges of his day and how he has to be so well-versed on many topics each day.

"In my live report I also wanted to share my impression of my experience in getting a question answered during the briefing. I was indeed asked to provide my question in advance. Because my question was largely of local interest, I chose to save it for my interview with the President instead.

"My mistake was to lump that experience with my coffee meeting reference, inadvertently giving Mr. Carney credit for that when in fact it did not come from him. I regret giving anyone the impression that it was from conversation I had with Mr. Carney.

"I do not attend those briefings regularly and cannot speak directly to the process for non-visiting journalists.

"None of my observations stemmed from my off-the-record meeting with Jay Carney."
Watch Anaya's clip below, via CBS News:
[h/t POLITICO / Washington Post]
[Image via Kevin Lamarque / Reuters]
——
>> Follow Evan McMurry (@evanmcmurry) on Twitter
Have a tip we should know? tips@mediaite.com