White House Sides With TSA In Rand Paul Incident, Says He 'Was Not Detained'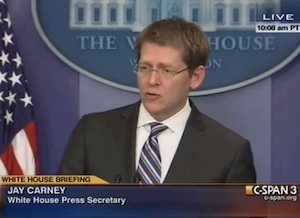 During a White House press briefing, press secretary Jay Carney said that the Obama Administration stood beside the Transportation Security Administration in the wake of Kentucky Senator Rand Paul being allegedly detained at the Nashville International Airport.
Republican presidential candidate Ron Paul called the TSA a "police state" after his son was allegedly "detained" for refusing a pat-down.
RELATED: Reports: Sen. Rand Paul Detained By TSA
The Press Secretary first spoke about Sen. Paul's situation in terms of standard TSA procedure, pointing out that "Passengers who refuse to complete the screening process" are not granted access to the secure area of the airport.
He then addressed Sen' Paul's allegation directly, referring to him as "The Passenger (screenplay idea!)"
"Let's just be clear," Carney said, "the passenger was not detained. The passenger triggered an alarm during routine airport screening, but refused to complete the screening process in order to resolve the issue. Passengers, as in this case, who refuse to comply with security procedures are denied access to the secure gate area. In this case, the passenger was escorted out of the screening area by local law enforcement. It's my understanding he has now rebooked and passed through security without incident, and that has resolved itself.
Carney said he had no comment in response to Paul's "police state" remarks.
"I think it is absolutely essential that we take necessary actions to ensure that air travel is safe," Carney said.
Watch below via CSPAN 3:

(
h/t TheHill
)
Have a tip we should know? tips@mediaite.com