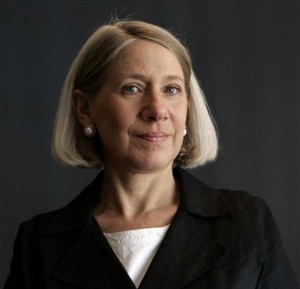 Outgoing White House Communications Director Anita Dunn made a parting strafing run at Fox News on Friday, calling the network out for airing misleading crowd footage, jumping the gun on an announcement of a Presidential interview and letting its opinion tail wag the news dog. In doing so, she heavily name-checked her should-be successor, The Daily Show's Jon Stewart.
Fox News' spokespeople responded swiftly, passively and aggressively.
Here's a sampling of Dunn's remarks (via HuffPo):
"A fun fact from this week is that an opinion show on a certain news network was using edited footage to make it appear that a rally last week, and political opposition to the president, was much larger than it appeared," said Dunn, during her appearance at the Bloomberg News Washington Summit. "Some of you may have heard about it. The people who went in and did fact checking on that, and actually exposed the spliced edited was… Jon Stewart of the 'Daily Show' on Comedy Central. Well that is where you are getting fact-checking and investigative journalism these days folks. It is a different media environment."
She rewound a little bit to talk about the bleed-through of Fox's opinion programs to their news desk:
…"Jon Stewart actually did one of the most amazing pieces of journalism last week or a couple of weeks ago," she said, "in which he looked at the way Fox, on their opinion shows, raises some issue that then gets reported on by their news division as 'a controversy.' … Now, that's a point of view. That's fine. That's entertainment. It helps their ratings. But I think if you go downstairs and walk through the Newseum that's not traditionally what you think of as traditional news — to some extent inventing the story."
On reports leaked to Drudge, and confirmed by Fox News, that Major Garrett had scored an interview with the President on his current Asia trip:
"We have on past foreign trips done what are called round-robins where there are short interviews with all of the networks that travel with us," she said. "We have not made a decision network on whether or not we are going to do those. There are no confirmed television interviews in china. And if, oh, some network sent out a press release announcing that was going to happen you'd have to ask about that network and whether or not they really had their facts confirmed before they leaked that."
Fox News responded by wishing Dunn well. Again.
"We wish her well in her new position where we're sure she'll continue providing brilliant strategic vision," a Fox News spokesperson told the Huffington Post in response to Dunn's parting shots against the network.
Fox's laudatory view of Dunn's strategy may have been sarcastic, but as our own Colby Hall pointed out, that strategy did accomplish a very important mission. Furthermore, although the White House took heavy criticism while the feud raged on, since the ostensible truce, Fox has been reinforcing the White House's view. In addition to the Hannity incident, Fox's response to Dunn points up a more recent example. Of the reported Presidential interview, Fox News issued a strangely damning correction:
"Once again, Anita has her facts wrong," the spokesperson said. "Fox News never issued a press release."
Anita was only half-wrong. While she did reference a press release, she also characterized the story as a leak. By denying issuing a press release, Fox appeared to be copping to the leak. And if Fox New was in fact behind the leak — did their zeal to juxtapose Dunn's exit — with news of a "major" get — prove the White House's point?
Have a tip we should know? tips@mediaite.com