Who Better to Tell Chuck Todd How to Revive Meet the Press Than Its Most Frequent Guest?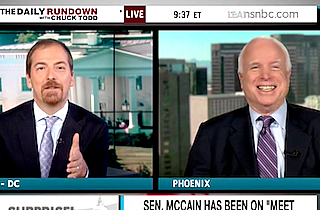 Chuck Todd's surprise guest on the Daily Rundown Wednesday morning was none other than Senator John McCain (R-AZ), who's appeared on Meet the Press sixty-nine times, more than any other guest. McCain, in affable mode rather than his normal Sunday cranky war hawk setting, advised Todd on reviving the iconic show, which fell in the ratings from first to third under David Gregory's tenure.
"I think it has been not just the oldest, but the premier Sunday encounter that the American people can have with leading figures in the political world," McCain said. "I would suggest that rather than try to expand it and do all kinds of different issues and subjects and kind of cute little anecdotes, that we really do what you do best, and that is focus on the political dynamics that are going on in this country, which then means: what are our policies, what are the dynamics."
"One of the things about Tim [Russert, the show's standard-bearing host] is that he had really the best minds in America, but not on every subject, but particularly on what was going on in Washington, D.C. Because I think that's what the original purpose of Meet the Press was."
"Of course, I have absolutely no responsibility for anything I've just said," McCain added, before warning Todd he wasn't going to be so nice the several dozen times he was set to appear on the Sunday show itself.
Watch the clip below, via MSNBC:
[Image via screengrab]
——
>> Follow Evan McMurry (@evanmcmurry) on Twitter
Have a tip we should know? tips@mediaite.com