Who Can Save Fox News From Its Self-Destruction of Sex Scandals? Laura Ingraham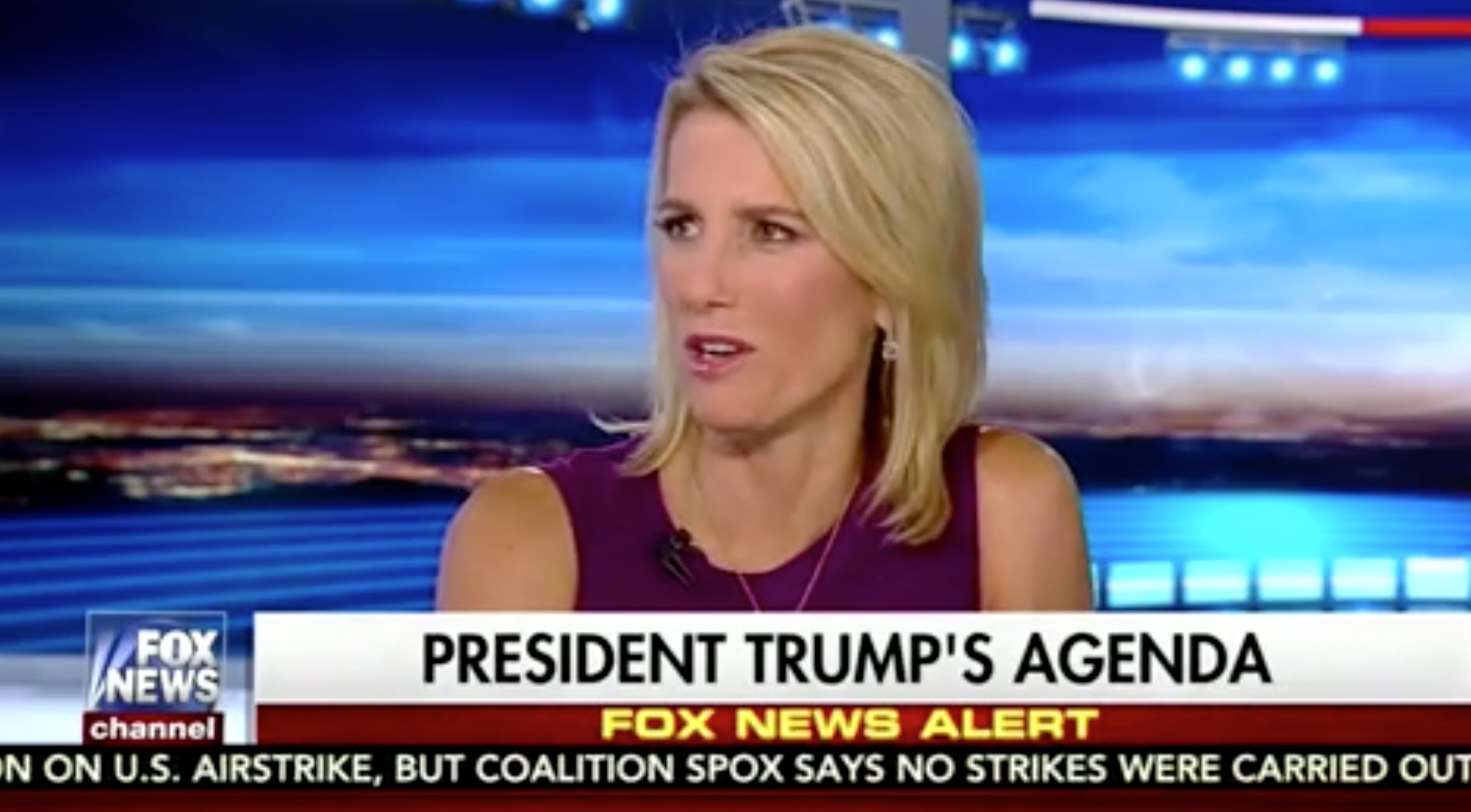 Fox News has been a whirlwind of controversy in recent months. From the firing of Bill O'Reilly, the suspension of Fox Business host Charles Payne, and the most recent ongoing scandal involving Eric Bolling, the "fair and balanced network" has been building a reputation of being the mecca of sexual harassment in cable news. Let's remember, this all occurred roughly a year after its founder Roger Ailes was ousted for his alleged treatment of his female employees.
All of these episodes have contributed to the ever-changing lineup in some way or another. Here was the primetime lineup about a year ago:
5PM – The Five

6PM – Special Report w/ Bret Baier

7PM – On the Record with Greta Van Susteren

8PM – The O'Reilly Factor 

9PM – The Kelly File

10PM – Hannity
This is the primetime lineup today:
5PM – The Fox News Specialists

6PM – Special Report w/ Bret Baier

7PM – The Story with Martha MacCallum

8PM – Tucker Carlson Tonight

9PM – The Five

10PM – Hannity
The changes are pretty jarring.
In late 2016, Greta Van Susteren left Fox News, which eventually gave an opening to Tucker Carlson. Then Megyn Kelly left the network in January, which Carlson was gifted her time slot and Martha MacCallum was given her own show in his old time slot. Then when O'Reilly was fired, Carlson took over his coveted 8PM time slot, The Five moved into Carlson's 9PM time slot, and then The Fox News Specialists took over The Five's old time slot.
Despite all the haphazard changes, the network has managed to hold onto its ratings, although MSNBC has been on the rise in the age of President Trump.
I'm sure the execs over at Fox News are trying to figure out how to reclaim the glory days like they had just a year ago. Perhaps I can give them some free advice.
Give Laura Ingraham her own show.
Ingraham has been a long time contributor at the network who has appeared on numerous programs such as Fox & Friends, Special Report, and Hannity. And over the years, she has filled in as a guest host on The O'Reilly Factor, Hannity, and most recently Tucker Carlson Tonight. Between her 1.63 million Twitter followers, her radio talk show, her website LifeZette.com, how the crowd reacted to her RNC speech she gave last summer, she clearly can draw an audience. A pro-Trump conservative who's able to acknowledge his shortcomings and criticize the GOP, she's also funny, outspoken, and overall non-controversial.
When Fox News lost Gretchen Carlson, Greta Van Susteren, and especially Megyn Kelly, so did nearly all of their prominent female voices. That's not to besmirch the work of women like Martha MacCallum, Shannon Bream, Harris Faulkner, Dana Perino, and Kimberly Guilfoyle, but none of them have commanded presence in primetime like Kelly did. And I believe Ingraham can.
With the marathon of these sex scandals with their on-air talent, perhaps the best way for Fox News to do damage control is to change the public perception that working for them is like Mad Men in the 21st century. What better way to do that than to putting a strong, intelligent woman like Laura Ingraham smack dab in the middle of the primetime lineup?
If she chooses not to be President Trump's next press secretary as rumors have said for months and she signs on to have her own show, where exactly should she be placed in the lineup?
There are two options. Here is Option #1:
5PM – The Five

6PM – Special Report w/ Bret Baier

7PM – The Story with Martha MacCallum

8PM – Tucker Carlson Tonight

9PM – The Laura Ingraham Show

10PM – Hannity
No matter what, The Five goes back to its old time slot. As much as I like Eboni Williams and Katherine Timpf, The Fox News Specialists was nothing special and now that Eric Bolling is off the air (possibly for good), that really puts the nail in the coffin for that program.
Putting Ingraham in the 9PM slot would put her in between Tucker Carlson and Sean Hannity just like Megyn Kelly when she was on between O'Reilly and Hannity, which was a winning formula for the network for four years. Also, she may be able to compete better with her MSNBC counterpart Rachel Maddow during that shared time slot than The Five is currently.
Here is Option #2:
5PM – The Five

6PM – Special Report w/ Bret Baier

7PM – The Laura Ingraham Show

8PM – Tucker Carlson Tonight

9PM – The Story with Martha MacCallum

10PM – Hannity
The reason why Option #2 exists is for Fox News to try and replicate the actual content of last year's lineup. The O'Reilly Factor and Hannity were opinion shows and The Kelly File was more news/political analysis, which was what really made Megyn Kelly a star. So if Fox News wants to try and recreate that kind of lineup, they can move The Story in between Tucker Carlson Tonight and Hannity since Martha MacCallum analyzes current events much like Kelly did.  And since Ingraham, Carlson, and Hannity are very politically aligned, MacCallum can serve as palette cleanser of sorts at 9PM.
Fox News has two things they must do: reclaim their cable news throne and to turn the page on its sex scandals. If they give Laura Ingraham a show, something tells me that will kill two birds with one stone.
This is an opinion piece. The views expressed in this article are those of just the author.