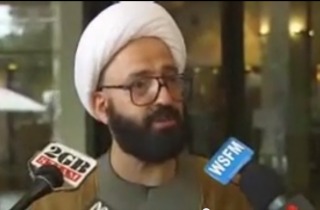 According to multiple news outlets, the gunman currently holding hostages in a Sydney, Australia cafe has been identified as 50-year-old Man Haron Monis — also known as "Sheikh Haron." CNN reported that U.S. intelligence officials first identified him and have been working with Australian authorities to gather more information about him.
Monis, who reportedly emigrated from Iran in 1996, is well-known to Australian law enforcement and media, and is being described as a "self-styled Muslim cleric" and an alleged sexual predator. He is linked to the murder of an ex-wife back in January, during which the Australian Broadcasting Corporation reported that he "stood outside the court wearing chains and holding a sign claiming he was tortured in custody" (video below).
CNN is reporting that Monis displayed a flag in the cafe that reads, "There is no God but God and Mohammed is the prophet of God." He is also reportedly demanding an ISIS flag and a phone call with Australian Prime Minister Tony Abbott.
Overnight, 5 people were seen escaping from the cafe, which reporters on the scene said irritated the gunman and caused him to start "screaming orders" at the other hostages.
A video originally posted on YouTube shows Monis apparently offering his condolences during a media briefing, but the context is thus far unknown. In addition, his website, sheikhharon.com, is currently down.
We will update this post as more information becomes available.
Watch that video below, via ABC (Australian Broadcasting Corporation):
And the video of Monis in chains, via CNN:
UPDATE — 10:40 A.M. ET: The siege has reportedly ended.
UPDATE — 1:00 P.M. ET: Sources have confirmed to CBS News that Monis is dead.
JUST IN: Alleged Sydney hostage taker Man Haron Monis is dead, sources confirm to CBS News http://t.co/wIBwf7m28C

— CBS News (@CBSNews) December 15, 2014
[Image via screengrab]
— —
>>Follow Andrew Desiderio (@forza_desiderio) on Twitter
Have a tip we should know? [email protected]