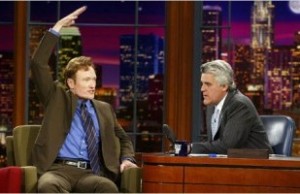 In less than 24 hours, the world of late night has been thrown into a tizzy. (Again.) Rumors of Jay Leno's cancellation forced NBC to admit that they are looking to change their late-night line up to fix two big ratings disappointments: The Jay Leno Show and Conan O'Brien's Tonight Show. The new deal would be, kill Jay's 10 p.m. hour and move him to 11:30 p.m., pushing Conan back until 12:05 a.m. for his hour and bringing Jimmy Fallon on at 1:05 a.m. NBC launched each of these three shows with great fanfare, after two protracted goodbyes for the first two, so this reshuffle represents not only slinking back to the old way with their tail between their legs (what? Scripted dramas at 10 pm might be worth the money, you say?) but a rollback on the two late-night shows they've been investing in for the last year.
Meanwhile, now Jay's back is up. And TMZ is reporting that NBC won't stop Conan if he wants to walk. So basically, what it really comes down to is, who is more valuable to NBC? Conan's had 7 months now to make his mark — should he get more time to gel with the audience? Is Leno at 10 p.m. losing him viewers? Or did Conan lose the viewers, and now NBC needs Leno at 11:30 p.m. to bring those viewers back? Did NBC make a big mistake signing on to Conan back in 2004 — and letting Jay go? Or are they making a huge mistake now by tinkering — again — with the way things are done?
Whatever the configuration, we all know, practically speaking, when the Tonight Show starts: At 11:35 p.m., up against David Letterman. Conan at 12:05 a.m. may only be a half-hour later but it's a damn crucial half-hour. Whatever names they're using here, make no mistake: This is about who gets the Tonight Show.
So: Who should get the Tonight Show, Jay or Conan?
Please note the question. I didn't ask who you like better, or to whom you are most loyal. TMZ has a "Team Jay or Team Conan?" poll, with Conan leading — but this is a business decision for NBC, about ratings, and a long-time franchise. Should they stick with Conan and give him a chance to build his audience? Should they cut their losses and go back to nice, dependable Jay? And is Jay still that dependable…or will he take a bite out of Leno's audience if he goes to another network? Think like an NBC executive right now, practically and about the long term (though recent decisions don't necessarily indicate such thinking). But either way, if it were up to you — who would you choose?


Photo from NBC via the NYT.
Have a tip we should know? tips@mediaite.com