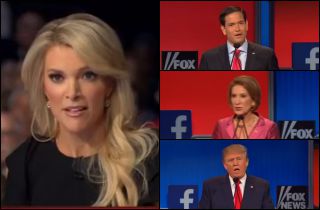 "Boy, that escalated quickly. I mean, that really got out of hand fast!" – Ron Burgundy, Anchorman
Yup… that pretty much sums up the start last night's primetime GOP debate in Cleveland. The sentiment is courtesy of Bret Baier's opening question to the ten men standing on stage if — by a show of hands — any of them would entertain a third party run. As you know, only Donald Trump raised his hand, and that escalated matters quickly…and in the process, already made it the greatest primary debate, like, ever.
And it only got better. Political drama and television at its most compelling. You can't find a person–even those who live outside the political bubble–who isn't talking about it this morning.
So who were the winners and losers? Glad you asked…
Winner: Carly Fiorina. And not just by a long putt on the 18th hole, but what felt like seven strokes ahead of the rest of the field. Google Trends says it all: Of the most searched candidates after the first debate, Fiorina took 48 of 50 states (Rick Perry oddly won Alaska, Bobby Jindal oddly took Louisiana, a state he won two elections in and should already be a known quantity). Seemingly every publication both print and online declared Fiorina the victor. In short, she has command of basically every issue, possesses biting humor that doesn't feel contrived or cheesy, has made herself more personable, likable, and exudes a confidence that will easily catapult her into the Top 10 candidates.
If she somehow won the nomination and debated Hillary Clinton directly, it would be Tyson-Spinks all over again (or at least Obama-Clinton). And if Marco Rubio wins the nomination (more on him in a moment), Carly (or John Kasich) are your no-brainer VP selections.
—
Loser: Every other candidate on the early stage. They all looked small, homogenized, rehearsed outside of maybe George Pataki, who would have been a more viable candidate in 2000 than 2016.
—
Winner: Marco Rubio. He was pretty much flawless during the main course. The thought in this space a few months ago was that Rubio didn't have the gravitas to inspire on a big stage…a little kid swimming in the deep end.
No more. The national consensus in terms of the aforementioned searches and trends is mixed (Trump, Carson and Cruz got the most), but in terms of substance and command, Rubio looked very presidential. And if put on the same stage as Mrs. Clinton, it'll be Obama-McCain all over again in terms of the young, energetic, hungry candidate versus the out-of-touch geriatric. Ask any Democrat: Rubio is the last candidate they want to see get crowned back in Cleveland a year from now. And a Rubio/Fiorina, Rubio/Kasich ticket would be extremely tough to beat.
—
Loser: Trump. Angered many in the party by keeping open the possibility of running as a third party candidate, which would hand the election to whomever the Democratic nominee is ala 1992 and Ross Perot's third party run (when Bill Clinton took the presidency with 43 percent of the vote). From there, Trump lost the crowd and never found his footing from there, particularly after Megyn Kelly's devastating question to him around sexism. For those looking for that moment when the Trump surge ends and the fall to reality begins, you just witnessed the beginning on Thursday night.
—
Winner(s): Chris Wallace, Megyn Kelly, Bret Baier. Talk about prepared and pointed…there wasn't one remotely easy question for any of the ten candidates throughout the evening. Fox was going to be favorable to Republicans, huh? Guess we can throw that meme into the circular file, as each was asked about issues that attempted to expose their biggest weaknesses or controversial stances. Baier's question around third party runs to start, again, was a tremendous scene-setter, and the moderators were crisp and concise from there. Martha McCallum and Bill Hemmer were equally tough during the undercard as well.
The moderators somehow managed to give equal time to ten candidates (no small feat given the personalities on stage). Fox just needs to use a better "time's up" indicator in the future, as my dog attacked the front door upon every ding! that dinged, which only happened about 30 times.
—
Loser: Jeb Bush. Uninspiring. Almost invisible when juxtaposed against the other nine candidates on stage. Bush already had no margin for error given the family brand name, and his campaign has been uneven and unconfident since it began.
—
Winner: John Kasich. Gave just about the perfect answer to a question around gay marriage:
"Our court has ruled and I said we'll accept it," Kasich said responding to a question from Kelly about what he would do if his child were gay. "And guess what? I just went to a wedding of a friend of mine who is gay. Just because they don't think the same way doesn't mean we shouldn't love them," he added. "That's what we're taught when we have strong faith."
The applause from the home-state crowd built as Kasich finished his answer. It shows how far the American public has come on the issue, and Kasich not only articulated it well, but was clearly genuine in doing so.
When all is said and done, this will go down as the most-watched primary debate in cable history. It felt like the Super Bowl of political theatre despite the actual election being 459 days away. It had tons of hype going in. Nobody really knew what to expect. But things escalated quickly…
And like this year's actual Super Bowl, it not only met expectations from an entertainment and substance level, it blew them away.
— —
>> Follow Joe Concha on Twitter @JoeConchaTV
Have a tip we should know? [email protected]