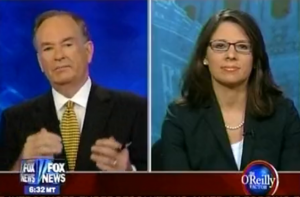 Is Bill O'Reilly a socialist? On the Wednesday night O'Reilly Factor, he surprised many by appearing to come out in support of a moderate form of the public option on healthcare. But was that really what he was saying?
Talking to the Heritage Foundation's Nina Owcharenko, who didn't look particularly thrilled, this is what he had to say:
But you know, I want that, Ms. Owcharenko. I want that. I want, not for personally for me, but for working Americans, to have a option, that if they don't like their health insurance, if it's too expensive, they can't afford it, if the government can cobble together a cheaper insurance policy that gives the same benefits, I see that as a plus for the folks.
First: does that count as support of the public option? If so, it's definitely not the hardline version of it. "A cheaper insurance policy that gives the same benefits" sounds like a safety net rather than a comprehensive, one-size-fits-all model. And O'Reilly doesn't want the private option to lose its efficacy. Back in 2007, when he was discussing Michael Moore's public healthcare manifesto Sicko, O'Reilly shot down Moore's proposal as "socialist." But he also supported stronger government regulation:
Talking Points believes that government-run health care would be a disaster, featuring long waits for treatment and an enormous rise in taxation. But there should be government oversight on private insurance companies and strict guidelines about abusing customers.

There can be compromise and effective government control of medical care abuse in the USA. It is possible. But if Michael Moore's plan ever gets traction, pray hard you never get sick. (emphasis added)
O'Reilly's latest statements appear to take this logic a step further by putting a safety net in place, but it's not as huge a leap for him as some might assume.
O'Reilly's critics tend to paint him as a lockstep conservative, but that isn't really fair to him. In truth, he's more of a populist than an ideologue. Over on the HuffPo comment boards on the video, some folks are floating the theory that this is some kind of calculated ploy by O'Reilly to boost his popularity and appear more moderate. But this is clearly a risky position for him to take, given his audience. According to a recent post by Nate Silver at FiveThirtyEight.com, there's a stark, stark gap between Democratic and Republican support of the public option, with the Fox News base strongly opposed: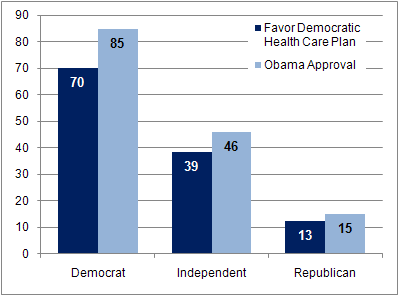 O'Reilly is a conservative, but he has a legitimate maverick streak to him. He has been more supportive of Obama than many of his ilk; he believes in global warming and environmentalist measures to curb it; he was even willing to go on the Daily Show. His support of a moderate form of the public option seems heartfelt. But in the current hyperpolarized political environment, it remains to be seen if there's room for mavericks anymore.



Video via Daily Kos
Have a tip we should know? tips@mediaite.com