'Whoa, Whoa Whoa!': Bloomberg TV Anchors Confront RNC Spokesman Over NBC/CNN Boycott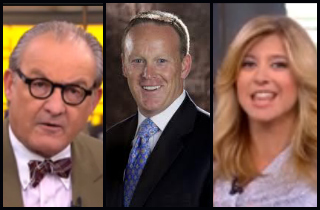 Appearing on Bloomberg TV's Market Makers on Friday, Republican National Committee spokesman Sean Spicer defended his party's plans to boycott any CNN and NBC primary debates over the networks' planned Hillary Clinton films. Suffice it to say, the Bloomberg TV anchors were not buying his arguments.
"Isn't what you're doing just sort of perpetuating the idea that the environment in Washington is so toxic, so partisan, this do-nothing Congress?" co-host Sara Eisen confronted Spicer. "Aren't you just feeding into that?"
"Not at all," rebutted the RNC spokesman. "In 2008, the Democrats refused to debate on Fox. No one had a problem with that."
He then added that two of the 2008 GOP debates were hosted by MSNBC's Chris Matthews, a "self-avowed Democratic operative" as Spicer characterized him.
"Whoa, whoa, whoa," interjected host Tom Keene. "I'm not going to let you say that. What did you say about Mr. Matthews?"
Spicer reiterated that Matthews once had a career in getting Democrats elected, but Keene was skeptical, rattling off the various media outlets at which the MSNBC host has most recently worked.
"Okay, but he spent his entire career prior to that helping elect Democrats to office," Spicer said.
"And?" Keene shot back.
Ultimately, Spicer said, it should not be a self-avowed Democrat who gets to ask debate questions "on behalf of the grassroots" and set the tone of the conversation.
Later in the segment, Eisen suggested to Spicer that "by putting up a fight, you're essentially putting a crown on Hillary" by giving so much attention to her before she ever announced her presidential candidacy.
Watch the exchange below, via Bloomberg TV:
[photos via RNC/Bloomberg TV]
— —
>> Follow Andrew Kirell (@AndrewKirell) on Twitter
Have a tip we should know? tips@mediaite.com