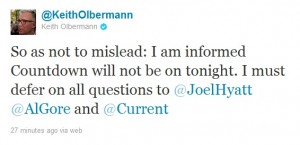 Is history repeating itself? Mere days after reports surfaced of a rift between Countdown host Keith Olbermann and Current TV, the host unexpectedly tweeted ominous news on Tuesday: "So as not to mislead: I am informed Countdown will not be on tonight. I must defer on all questions to @JoelHyatt @AlGore and@Current."
It was almost a year ago that Olbermann suddenly announced the end of Countdown on MSNBC, which precipitated his move to Current. Last week, The New York Times' Brian Stelter cited unnamed sources and programming inconsistencies as indications of strife between Olbermann and Current TV.
As if Olbermann's referring questions to Current executives Al Gore and Joel Hyatt wasn't disturbing enough, the programming change appears to have taken the Countdown host completely by surprise. He tweeted to a fan, earlier Tuesday, that he was "headed into the office now" for Countdown's return from holiday hiatus.
At the time I reported on Olbermann's move to a set-less black void, I asked Current if it was some form of protest, to which they replied that it was a stylistic choice borne of a technical mishap, but maybe it was somebody's way of sending a message, either Olbermann bristling at a more austere network, or Current expressing dismay at Olbermann.
It's hard to say what will happen next. Although the details aren't known, it's a safe bet that Olbermann's contract is hella lucrative, and puts him in the driver's seat. If Current wants him gone, though, it's hard to see him sticking around, even if cutting him loose costs them big.
As of this writing, Current has not returned requests for comment, but we will update as we have new information
Update: Keith Olbermann subsequently tweeted: "Back by popular demand, Countdown returns Wednesday Night 8 PM Eastern. Now with 99% less Santorum (google it)."
Additionally, Current returned our request for comment, saying they had nothing to add.
Update 2: This explanation was posted on the Current Live Chat:
Hi FOK et al – We wanted to answer the questions about Keith Olbermann's participation… Current asked Keith to be the sole anchor and exec producer of our primary and caucus coverage beginning tonight. Unfortunately, he declined to anchor or participate.

We're excited for tonight's live four hours of Politically Direct featuring Vice President Gore, Governor Granholm and Cenk Uygur.

Countdown will be back tomorrow night!
That's a pretty strange explanation, since, hours before, Olbermann was convinced he was doing a show Tuesday night. We'll keep an eye on this.
Have a tip we should know? tips@mediaite.com