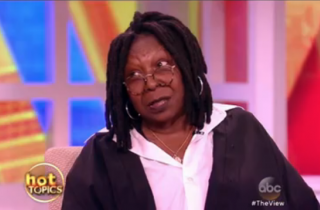 After vigorously defending her friend Bill Cosby from allegations of repeated sexual assault, Whoopi Goldberg has seemingly changed her tune.
Following reports that a 2005 deposition included Cosby admitting to giving quaaludes to women for sex, Goldberg repeatedly defended the legendary comedian, arguing that he had not been conclusively proven a rapist. In spite of alleged death threats, The View host persisted, telling critics to "back off."
Since then, she's received the public scorn of both John Oliver and Judd Apatow.
But then came Tuesday morning's edition of The View, in which Goldberg interviewed Mediaite founder Dan Abrams. "If this is to be tried in the court of public opinion, I got to say all of the information that's out there kind of points to guilt," Goldberg said, after being convinced that Cosby's accusers have had no other recourse beyond releasing the depositions.
"I always thought they would have the opportunity to take him to court," she continued, "but you're saying that's not true?"
"They don't," Abrams confirmed.
Goldberg later explained why she will no longer stand in defense of Cosby: "I have to say I thought that, yeah, here's all the information, take his ass to jail. I find out from you [Abrams] that that's not possible. So I can't say any more 'innocent until proven guilty,' because there's no way to prove it. We are the only proof that folks have."
Watch the full clip below, via ABC.
— —
Have a tip we should know? tips@mediaite.com