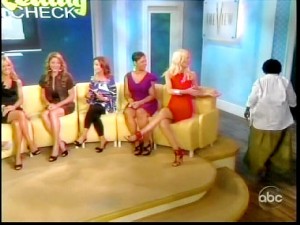 Ah, the Salahis, they're just universally beloved, aren't they? Michaele Salahi was on The View with the cast of whatever show she's in and was not well received. After a brief on camera altercation with Whoopi Goldberg, Salahi and her husband, Tareq got in a fight with The View host and are now accusing her of attacking Michaele.
Here's how it apparently went down, from Gossip Cop:
"Goldberg was not in the segment, but as the conversation went on and on between Joy Behar, Sherri Shepherd, and the D.C. Housewives, Goldberg stepped onto the show's set, lightly tapped Salahi's back, and told her, 'Excuse me, can you get back to the White House, please,' meaning she wanted Salahi to return to the subject of how she and her husband Tareq crashed President Obama's state dinner last fall.

But that wasn't the end of it.

Later, after hearing that Salahi was claiming she had "hit" her, an exasperated Goldberg went backstage to a room where the Salahis were, and got into a screaming match with the crashers."
The Salahis are now accusing Goldberg of attacking Michaele. This is the official ABC response:
"At one point during Michaele Salahi's appearance on The View on Wednesday, Whoopi lightly touched Ms. Salahi to get her attention and said to her 'Excuse me, can you get back to the White House, please?', meaning could Ms. Salahi return to the original subject of the conversation. After the show, Ms. Salahi and her husband accused Whoopi of hitting Ms. Salahi. As the broadcast clearly shows, the accusation was completely unfounded and erroneous. After the show and after being told she was being accused of hitting Ms. Salahi, Whoopi proceeded to defend herself verbally from this baseless claim in a heated exchange with the Salahis."
I like how, after Michaele discussed her absurd made up drink throwing drama with her vapid castmates and after Goldberg gives her that quick jab, the other hosts let their displeasure with the White House crasher be known and Salahi uses the same condescending response she used on Lynn Berry a few months ago. "Have you ever been to the White House?" What lovely people the Salahis are.
Goldberg will be responding to the accusations on today's show.
UPDATE: Check out Goldberg's response here.
Have a tip we should know? tips@mediaite.com